Embraer has pledged to develop "solutions" to achieve "net-zero aviation emissions" by 2050, saying it will work expand the use of biofuel and continue developing aircraft powered partly and fully by electricity.
As part of its goal, which Embraer disclosed on 13 August, the company intends to advocate for public policies aimed at making biofuel more practical and at advancing electric and hydrogen-fuel technologies.
Wrapped into the effort is Embraer's continued development of an electric military transport aircraft concept called STOUT, and development of an electric urban air taxi.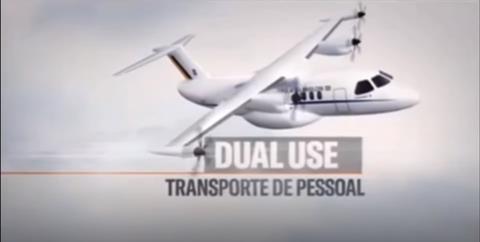 Embraer's net-zero target mirrors goals set by airlines and numerous governments. The term "net-zero emissions" is broadly considered to be achieved when emitted greenhouse gases are countered by an equal amount of gases being absorbed out of the atmosphere.
Embraer will "develop new solutions to [support] net-zero carbon solutions in aviation by 2050," says Luis Carlos Affonso, the company's senior vice-president of engineering, technology and corporate strategy. "We believe this is possible."
The effort will see Embraer focus on "two fronts". Those include developing "sustainable aircraft" and "collaborating to develop and advocate innovation and public policies toward a sustainable ecosystem," Affonso says.
He cites electrification, biofuel and hydrogen fuel as examples of technologies that could benefit from targeted public policy.
Executives note that Embraer affiliate Eve Urban Air Mobility Solutions is working to have its in-development electric vertical take-off and landing (eVTOL) aircraft – an air taxi – in commercial service by 2026. And, just days ago, the company completed first flight of an electric-powered variant of its EMB-203 Ipanema.
Executives confirm Embraer is still working on a hybrid-electric military aircraft concept it calls STOUT, an acronym for "short take-off utility transport". Embraer is targeting the aircraft at Brazil's air force but has disclosed few other details.
Affonso also said Embraer is pitching a new 70-90-seat turboprop to replace 50-seat jets – and burn 20% less fuel.
Executives stress the critical role they believe biofuel – known in the aviation industry as sustainable aviation fuel (SAF) – plays in helping the sector cut carbon.
Embraer is working to ensure its aircraft can burn "100% SAF" by 2030, and "actively working with the supply chain to expand the global SAF production scale".
Industry groups say burning SAF – produced from plants, other organic material and municipal waste – emits significantly fewer CO2 "life-cycle emissions" than burning fossil fuel. That is because plants previously absorbed CO2, and municipal waste, if not used to produce SAF, would decompose and emit gas anyway, advocates say.
But whether the industry can meet SAF goals is far from certain.
A March report from the International Council on Clean Transportation concludes that only 5.5% of Europe's projected aviation fuel requirement in 2030 can come from SAF. That is due to limited availability of "sustainably available feedstock".
The source of that feedstock – the material used to make the fuel – is important. Scientists have warned that biofuel benefits can be negated if land – forests, or fields used to grow food crops, for instance – is converted to grow plants for biofuel production. For that reason, the feedstock needed to make biofuel "sustainable" is limited.
The net-zero by 2050 commitments align with 2018 conclusions from a United Nations' panel, which said emissions must be net-zero by 2050 to meet temperature goals laid out in the Paris Agreement.