Embraer has unveiled several new conceptual low-emission aircraft, marking a shift toward possible development of larger aircraft powered by hybrid-electric and hydrogen propulsion.
The changes, disclosed on 6 December, also seem to shift Embraer away from previous plans to develop an all-electric commuter aircraft.
The concepts are part of the "Energia" programme Embraer revealed in November 2021. Through that effort, Embraer aims to develop low-emission aircraft, supporting the airline industry's goal of achieving net-zero carbon output by 2050.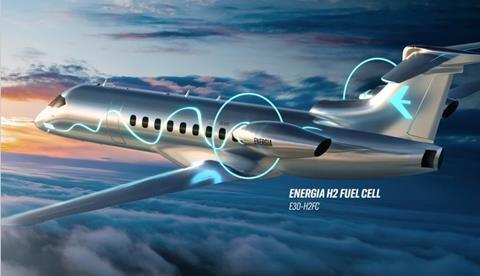 Initially, Energia comprised four concepts: two nine-passenger aircraft (one hybrid-electric, one all-electric), one 19-seater powered by hydrogen fuel cells, and one powered by hydrogen-burning turbine engines to carry 35-50 passengers.
But Embraer says Energia will now focus on developing two hybrid-electric aircraft – the 19-seat E19-HE and 30-seat E30-HE – and two aircraft powered by hydrogen fuel cells: the 19-seat E19-H2FC and 30-seat E30-H2FC.
"Guided by the company's 50-year technical expertise, external inputs from airlines and joint studies with engine [manufacturers], these two approaches to net-zero offer a technically realistic and economically feasible pathway to net-zero," Embraer says.
"I believe we have set bold but realistic goals for these concepts to come to market," adds Embraer Commercial Aviation chief executive Arjan Meijer. "We can apply those system more easily on a small scale before we put them gradually on bigger and bigger aircraft."
All aircraft within the Energia family are purely concepts under evaluation, not part of committed development programmes.
"While still at the evaluation phase, the architectures and technologies are being assessed for technical and commercial viability," Embraer says.
The Energia concepts are also separate from its consideration of launching – as early as 2023 – a conventionally powered 70-90-seat turboprop.
Executives say the Energia team has, in the last year, "scaled up" its hybrid-electric project, shifting from plans for the nine-seat commuter aircraft to the newly revealed 19- and 30-passenger concepts.
Embraer senior vice-president of engineering, technology and corporate strategy Luis Carlos Affonso says the company could bring the new "Energia Hybrid" designs to service in the early 2030s.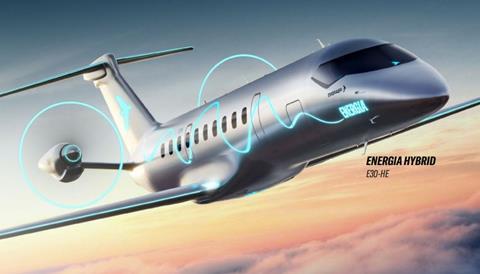 The aircraft will have range of about 500nm (926km). Embraer's designs use twin rear-mounted propellers driven by "parallel hybrid-electric architectures that [maximise] the synergies between thermal and electric engines," says Affonso. Parallel hybrid systems are those in which the electric motors or combustion engines can turn the propellers.
The electric motors will provide "localised power boosts", while the gas turbines will be "optimised" for use during cruise flight, Affonso adds.
At the same time, Embraer plans to develop its 19- and 30-passenger "Energia H2 Fuel Cell" concepts, with service entry pegged for the mid-2030s and range of at least 200nm, it says.
The fuel cell-powered aircraft will also have twin aft-mounted propellers, but driven by electric motors. The hydrogen fuel cells will be mounted in the aft fuselage.
Affonso concedes technical and infrastructural hurdles must be overcome before hydrogen-powered flight becomes viable. Those obstacles include development of airport and related infrastructure needed to supply hydrogen.
Also, heat from fuel cells pose "thermal management challenges", which Embraer plans to address by equipping its aircraft with air inlets located atop the fuselage, under the tail, says Affonso. Those inlets will feed "ram air to the heat exchangers".
"With a carefully designed flow path, the system can help minimise drag and even provide some thrust at cruise conditions," he adds.
Embraer says its decision to focus on hybrid and hydrogen designs in the 19- and 30-seat class follows feedback from an advisory group and discussions with potential customers. Embraer has also been working with "traditional powerplant manufacturers" and start-up propulsion companies, says Meijer. He declines to specify company names.
The strategy shift, however, leaves uncertainty around two other Energia conceptual aircraft, both revealed in 2021: the nine-passenger, all-electric E9-FE and 35-50-passenger gas turbine-powered E50-H2GT.
Embraer previously said the E9-FE would enter service around 2035, followed around 2040 by service entry of the E50-H2GT.
Affonso insists Embraer has not ditched those concepts. But, he provides no elaboration except to say Embraer continues advancing electric-aircraft technology through its ownership stake in air taxi developer Eve.
Embraer has wide estimates of how many of the new 19- and 30-seat aircraft airlines might buy – pegging demand between 4,000 and 20,000 aircraft, says Embraer Commercial Aircraft vice-president of marketing Rodrigo Silva e Souza.
The airline industry has broadly committed by 2050 to achieve net-zero carbon emissions, a state at which CO2 emitted by aircraft is zero, or is offset by the same amount of CO2 being removed from the atmosphere by another means.
Embraer confirms on 6 December that it no longer intends to develop a nine-seat hybrid-electric aircraft. Also, it still intends to develop the E50-H2GT for 2040 service entry.