Brazilian airframer Embraer lost $732 million for the full year 2020 but says an increased demand for regional travel will drive its post-pandemic recovery.
Reporting fourth quarter and full year 2020 results on 19 March, the San Jose dos Campos-headquartered airframer says that it delivered 28 commercial jets and 43 executive jets the final three months of the year. During the full pandemic-plagued 2020, it delivered 44 commercial jets and 86 executive jets, That's a decline of 51% and 21%, respectively.
The company declines to make predictions for 2021, but with a firm order backlog at $14.4 billion, executives expect it to return to profitability soon.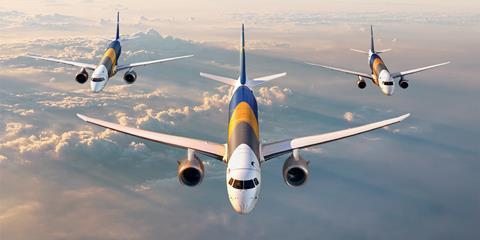 "2021 will remain a challenging year. The crisis is not over, the scenario is uncertain and volatile," says Embraer chief executive Francisco Gomes Neto. "But despite that uncertainty we are confident that the market will pick up activities in second half [of 2021] and we are prepared to grow strongly in 2022."
The commercial aircraft backlog is $7.6 billion or 281 E-Jets, and represents about 53% of the total backlog figure. This includes 132 E175s, three E190s, seven E190-E2s, and 139 E195-E2s, the company says.
"We've had no cancellations of firm orders since the beginning of the pandemic," adds chief financial officer Antonio Carlos Garcia. "That is proof we do not have a speculative backlog compared to our competitors."
"We are cautiously optimistic in signing new contracts in 2021," he adds.
Neto had said in December that he expects that within five years the company will be bigger than prior to the global pandemic.
Revenue in the final three months of the year came in at $1.84 billion, down 11.7% from the year-ago period. Full-year 2020 revenue was $3.77 billion, down 31% from 2019.
The company had to deal with the failed commercial aerospace partnership with Boeing, worth $4.2 billion, which negatively impacted the airframer's results.
The US firm backed out of the deal in April, just as the coronavirus crisis was hitting its peak. Embraer says it has booked most of its costs relating to that event in 2020, and executives add they hope to announce other potential partnerships "in the near future".
But while customers have remained loyal, Gomes Neto says the company knows it needs to broaden its customer base to achieve ambitious targets it has set for itself in the coming years.
LUFTHANSA INTEREST?
Gomes Neto would not comment on discussions it may be having with German flag carrier Lufthansa, after that airline's chief executive mentioned in a webinar in February that the carrier could be interested in the Brazilian airframer's modern E2 jets.
"We are pleased by the CEO's comments and we agree with them but we are not disclosing our campaign," Gomes Neto says.
Lufthansa's CityLine subsidiary currently operates nine first-generation E190 and two E195 jets, according to Cirium fleets data.
Helvetic Airways, a subsidiary of Lufthansa-owned SWISS, has taken delivery of several E190-E2 jets, and will be receiving its first E195-E2 later this year. SWISS itself, however, has opted for the Airbus A220, the E2 jets' primary competitor.