Embraer is likely to base any future turboprop airliner on the fuselage of its current E-Jet models and use conventional engines rather than any alternative propulsion system, the head of its commercial aviation unit indicates.
Arjan Meijer, who became chief executive of Embraer Commercial Aviation in June, says that the airframer is in talks with "several" potential partners, both "industrial and financial", regarding the potential development, but declines to provide further detail.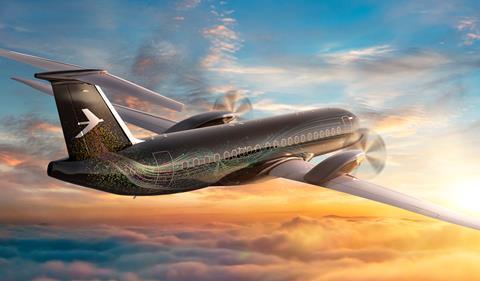 However, Miejer says that Embraer's engineering and production expertise means that "we do not need a partner to build the aircraft".
While he is hopeful that a partnership agreement can be hammered out next year, any programme launch will be "beyond 2021".
Meijer rules out the selection of an alternative propulsion system for the turboprop, however. He argues that to provide 5% of the required power from a hybrid-electric system would translate to a 15% increase in operating costs. "It would add a lot of cost for limited benefit," he says.
Although Embraer's defence unit is working on a small hybrid-electric transport for the Brazilian military, Meijer says the new powertrain on that aircraft is driven by a requirement for short-field performance.
Hybrid- or full-electric propulsion could play a part in the future, he says, but "the technology is not there today".
While stressing that an aircraft's configuration is "fluid" until its formal launch, Meijer confirms that under the company's current studies, the turboprop would share a fuselage with the existing E-Jet range.
Meijer says that this would allow the manufacturer to benefit from industrial synergies and provide passengers with a more jet-like experience.
Any eventual programme will be in the 70- to 100-seat segment and would compete with market leader ATR.
ATR, the Airbus-Leonardo joint venture, has already indicated that it is studying alternative propulsion systems for its aircraft, with a hybrid-electric architecture a favoured option. A decision from its shareholders on a future strategy is hoped for in the new year.