Brazilian airframer Embraer lost $32 million in the first quarter of 2022, logging steep declines in military, executive and commercial aircraft revenue.
The company attributes the results partly to a production interruption stemming from the failed sale of its commercial aircraft business to Boeing.
The loss marks a significant slide from Embraer's fourth-quarter 2021 profit of $57 million. But the first-quarter results are up from the first quarter of 2021, when Embraer lost $90 million.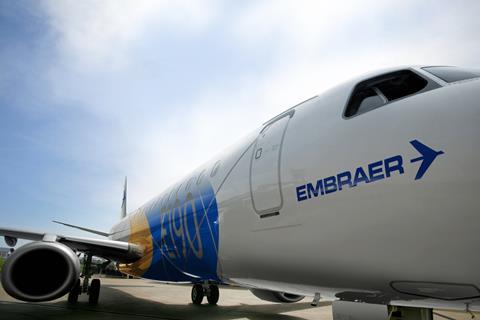 "The first-quarter result [continue] to show that our planned execution and company turnaround remains underway," Embraer chief executive Francisco Gomes Neto says during the company's first-quarter earnings call on 28 April.
Embraer generated $601 million in first-quarter revenue, down 26% year-on-year.
Revenue from its commercial aviation division tumbled 38% year-on-year to $169 million. The company delivered six E-Jets in the first quarter, down from 16 in the final quarter of 2021, and eight executive aircraft, down from 39 in the previous quarter.
"Deliveries in the quarter were negatively impacted by [an] almost-one-month shut down due commercial aviation reintegration," says Embraer.
The shutdown occurred in January.
Embraer says the reintegration related to a terminated deal under which Boeing was to acquire majority ownership of Embraer's commercial aviation business. Embraer separated that business from its other interests in anticipation of the sale, but Boeing backed out of the deal in April 2020.
Embraer's revenue from its military business also sank in the first quarter, falling 47% year-on-year to $68 million. The company attributes the decline to a lack of KC-390 tanker deliveries.
Embraer's executive aviation business generated $90 million in first-quarter revenue, down 41% year-on-year.
But its services and support business shined, bringing in $271 million in revenue, up 8% year-on-year, the company reports.
The value of Embraer's backlog stood at $17.3 billion at the end of the first quarter, up from $14.2 billion on year earlier.