Embraer has agreed to sell aerostructures operations in Portugal to Spanish aerospace company Aernnova for $172 million, an effort by the airframer to "optimise" its manufacturing footprint.
The deal will see Aernnova acquire two Embraer operations in the city of Evora: the 37,100 sq m (399,000 sq ft) Embraer Metalicas site, and the 31,800 sq m Embraer Compositos facility, the Brazilian airframer announced on 12 January.
Those operations employ a combined 500 staff and produce metallic and composite components for wings, horizontal stabilisers and vertical stabilisers; they have been operational since 2013. The components are found on Embraer's primary aircraft programmes, including its E-Jet commercial airliners, Praetor 500 and 600 business jets and KC-390 military transport.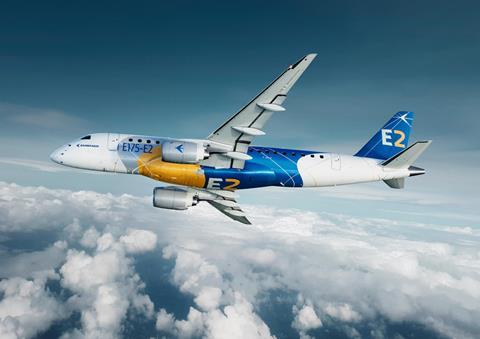 The agreed $172 million sale price may change before the deal coses, however. Embraer does not say when that might be, though it expects to complete "certain conditions" related to the sale by the end of March.
Following the sale, Aernnova will operate the Evora sites, which will continue supplying Embraer.
The airframer's chief executive Francisco Gomes Neto calls the divestitures "an important step towards" Embraer's "footprint optimisation strategic initiative, which aims to better use… our assets and improve the company's profitability".
Gomes Neto in 2020 disclosed details of a "strategic plan" that called for Embraer to wring efficiencies from its operation. At that time, Boeing had recently backed out of an agreement to acquire majority ownership of the company's commercial aircraft division.
Acquiring the Embraer assets reflects Aernnova's growth intentions, "further underlining the company's status as a global leader in the design and manufacturing of aerostructures", says chief executive Ricardo Chocarro.
"This agreement strengthens Aernnova's position as a tier-one supplier for single-aisle aircraft and improves its presence in the executive and defence aerospace markets," it adds. The sites will generate about $170 million in annual revenue.
Aernnova has a long history of working with Embraer, having landed its first contract with the airframer in 1993, for design and manufacturing of ERJ-145 wings. Its other work includes manufacturing stabilisers, rudders and other components for Embraer's E-Jets, and parts for Airbus and Boeing aircraft.