Embraer swung to profitability in the third quarter of 2023 and still expects to meet its full-year delivery and financial expectations despite a still-struggling supply chain.
"We know we have a challenge ahead in terms of deliveries. Therefore, we can expect an intense Q4, mainly due to supply chain constraints," the Brazilian manufacturer's chief executive Francisco Gomes Neto said on 6 November.
His comments came as Embraer reported earning a $64.3 million profit in the third quarter, reversing a $41.4 million loss in the same period last year.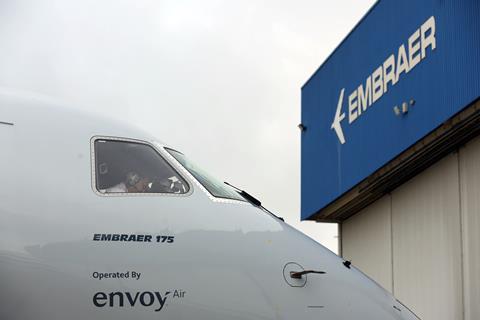 The company attributes the improvement largely to a bump in aircraft deliveries.
Its commercial aviation division delivered 15 aircraft in the third quarter, up from 10 in the same period of 2022, and generated $425 million in revenue, up 68% year on year. Embraer delivered 28 business jets last quarter, up from 23 in the third quarter of 2022, and brought in $340 million in revenue, up 25% in one year.
The company also logged a 24% jump in service revenue and a 40% bump in defence revenue, year on year.
"This quarter was marked by an excellent sales momentum and double-digit revenue growth in all business units," says Gomes Neto.
Executives say their 2023 predictions remain unchanged, though Gomes Neto predicts the company's aircraft-delivery total will come in at the lower end of its guidance. Embraer has said it expects in 2023 to deliver 65-70 commercial aircraft and 120-130 business jets, to generate $5.2-5.7 billion in revenue and to post a 6.4-7.4% operating profit margin.
The company has a way to go. Embraer generated $3.3 billion in revenue in the first three quarters of 2023 and delivered 39 commercial aircraft and 66 business jets.
"We are still facing some challenges in our supply chain and Embraer has been diligently working with suppliers to mitigate these issues," Gomes Neto says. "We are getting the parts, but we get some parts late. This puts pressure on our production process [and] the delivery process."
"We are still confident we will be at the lower end of our guidance," he adds.