Embraer has unveiled a new configuration for its conceptual turboprop, now pitching a 70-90 seat aircraft with aft-mounted engines – a design the company says can replace 50-seat regional jets.
Previous designs for the turboprop released by the Brazilian airframer – a programme it has yet to officially launch – had more conventional wing-mounted engines.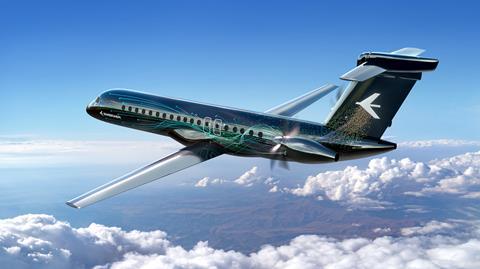 "Our proposal here is to offer a high-tech, 70- to 90-seat turboprop with the same cross-section as the E-Jets. Very comfortable, no middle seats and spacious overhead bins," Embraer senior vice-president of engineering, technology and corporate strategy Luis Carlos Affonso said on 13 August.
"The rear-mounted engines will provide a quiet cabin" and capabilities similar to jet aircraft, adds Affonso, speaking during an Embraer media event.
The turboprop could replace ageing 50-seat jets, which include Embraer's ERJs and Bombardier CRJ200s. Those types have long been out of production. But with no replacements available, they remain in the fleets of many airlines.
"This turboprop will… replace the current 50-seat regional jets in very important markets," Affonso says, adding that turboprops are about 20% more efficient than jets.
The three popular passenger turboprops still in production – De Havilland Canada's Dash 8-400 and the ATR 42-600 and 72-600 – are updated versions of decades-old designs.
"Turboprops have lost their appeal," Affonso says. "Passengers see them as cramped, not possessing enough overhead space, and noisy."
Embraer's turboprop project is "moving very well, especially with the recent interest of US airlines," adds Embraer chief executive Francisco Gomes Neto. "We see that product as a good alternative for the market."
The company has for years hinted at developing a new turboprop but has still not committed to moving forward.
In June, Embraer Commercial Aviation chief executive Arjan Meijer said the airframer could launch the turboprop in 2022, with service entry in 2027 or 2028.
Meijer has said Embraer alone has expertise needed to develop such an aircraft, but the company has been seeking partners. The turboprop will have conventional engines – not alternative systems such as electric, hybrid-electric or hydrogen propulsion, he added.
In October 2020, Embraer released digital renderings of a previous turboprop design with wing-mounted engines.