Embraer has released images of an apparent conceptual turboprop aircraft with a fuselage seemingly borrowed from the company's E-Jet.
The Brazilian aerospace manufacturer, which has long discussed the possibility of developing a new turboprop, tweeted a digital rendering of the turboprop on 29 October.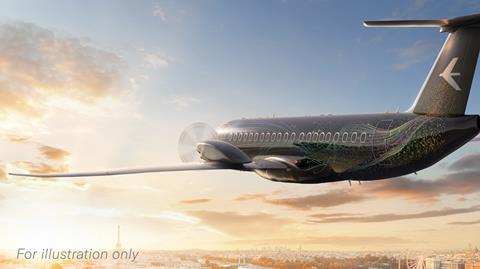 Separately, Embraer Commercial Aviation chief executive Arjan Meijer tweeted an image of the aircraft from a different angle.
The tweets link to an Airfinance Journal podcast during which Embraer vice-president of marketing Rodrigo Silva e Souza says Embraer continues studying a potential new turboprop aircraft. He adds that the company seeks "business partners".
The digital renderings show an aircraft with a fuselage seemingly identical to an E-Jet – perhaps an E175 – and turboprops mounted above a low-slung wing.
The twin-engined aircraft's horizontal tail plane sits above its vertical tail plane – a T-tail design that differs sharply from the E-Jet's conventional stabiliser.
Analysts have long dubbed Embraer's conceptual turboprop as the "E3". They have speculated it could carry somewhere between 75 and 90 seats.
Embraer says it tweeted the image "for illustrative purposes only". The company declines further comment.
In January, Embraer's former commercial aviation chief executive John Slattery told FlightGlobal that Embraer was two years through a three-year study into a potential new turboprop.
He also said Embraer would not move forward with the project unless it closed a joint venture with Boeing. That joint venture fell through earlier this year.
Michel Merluzeau, aerospace analyst with consultancy AIR, thinks the aerospace industry could use such an aircraft.
A new turboprop would have unmatched economics on flights of 500-700nm (930-1,300km) distance, or with duration of no more than 1.5-2h, he says.
Such an aircraft could make viable some routes that are uneconomical with today's 50-seat regional jets, he adds.
Competitors ATR and De Havilland Canada also make turboprops, but those companies' aircraft are based on decades-old designs, analysts have noted.