Embraer is increasingly optimistic about E-Jet sales in the competitive Asia-Pacific market, as it continues work on its possible turboprop offering.
Following the difficult years of the Coronavirus pandemic, Asia-Pacific airlines are starting to look at renewing their fleets, creating an opportunity for Embraer, says Martyn Holmes, chief commercial officer of Embraer Commercial Aviation.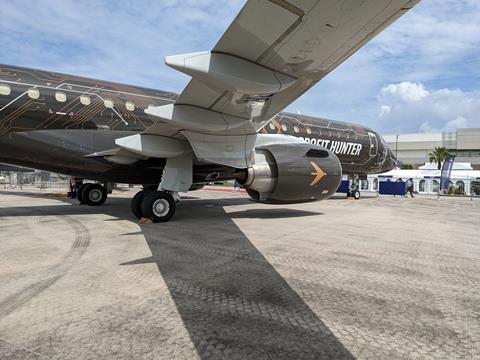 He points to Singapore low-cost carrier Scoot's decision in early 2023 to lease nine E190-E2s, which will make it Southeast Asia's first operator of the re-engined regional jet.
"I find myself more frequently here," says Holmes, speaking to FlightGlobal at Malaysia's Langkawi International Maritime and Aerospace (LIMA) exhibition.
"The team are doing really great work and we see great potential for the E2 in the Asia-Pacific… It's a great time to be showing the aircraft out here."
For the 2023 edition of LIMA, Embraer brought the E195-E2, which appeared in the static park, having shown the smaller E190-E2 in 2019.
Holmes adds that the E195-E2 is still undergoing the certification process in China after the E190-E2 attained the milestone in late 2022.
"We're confident of the process, and we are confident of the market we can address in China," says Holmes.
Embraer also sees prospects improving in India following adjustments to New Delhi's Regional Connectivity Scheme, which should boost demand for smaller jets.
On the new product front, Holmes stresses Embraer still has turboprop airliner ambitions, but the offering has to be exactly right before the airframer moves forward. In December 2022, Embraer decided to delay a decision to launch the turboprop, saying suppliers were unable to meet goals.
But Holmes says discussions with customers about the potential new aircraft have been promising.
"We were really delighted at the positivity coming back from the customers, and we could see a real potential for a next-generation turboprop in the market," he says.
"The reason why we had to make a slight pause is because, in the end, we need to deliver exactly the right aircraft. Airlines operate on very thin margins commercially, and they absolutely need the right aircraft. We would rather take a little bit more time to try to nail that aircraft."
Holmes adds that Embraer continues working with suppliers on the project.