Embraer's urban air mobility business continues to push forward ambitious plans for intra-city transport, now saying it intends to operate up to 100 electric air taxis in the Asia-Pacific region via a partnership with Ascent Flights Global.
Eve Urban Air Mobility, a Florida-based Embraer subsidiary, aims to provide Ascent with up to 100,000h of annual air taxi flights starting in 2026. The operations are envisioned to be in the "key cities" of Bangkok, Manila, Singapore, Tokyo and Melbourne in Australia.
In June, Eve had disclosed a partnership with Ascent but had provided few details.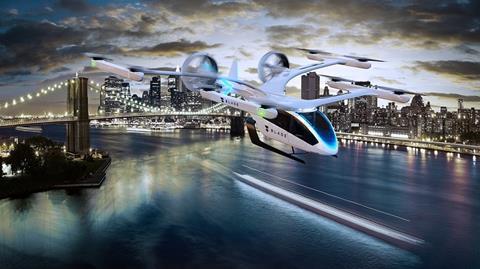 Eve is among several companies developing electric vertical take-off and landing (eVTOL) aircraft, which, they claim, will revolutionise urban air travel. However, no such aircraft have so far achieved certification and the business model remains unproven.
"Eve plans to deploy up to 100 aircraft to be marketed by Ascent on its current and future routes," says Embraer. "Ascent… will pay for flight time utilised on Eve's aircraft while operating in combination with partners in Asia-Pacific and other markets."
The deal remains subject to "definitive final agreements", Embraer adds.
Ascent, founded in 2018, does not operate aircraft but rather sells air transportation on aircraft operated by partners.
Eve has disclosed few details about its in-development eVTOL, though digital renderings released by the company show an aircraft with eight lifting propellers and two ducted fans for forward propulsion.
Embraer began developing the eVTOL technology under its EmbraerX technology incubator, then in 2020 spun the project into an independent Embraer-owned company called Eve.
Eve has signed partnership deals with air service providers in other regions, including with US company Blade Air Mobility and Brazilian company Flapper.
In addition, Eve has been advancing a related effort to develop the air traffic management technology needed to make urban air taxis viable.