Four years ago, Embraer participated in the Paris air show as a company readying for major transition, with its commercial aircraft business being prepared for sale to Boeing.
It also marked the first Le Bourget attendance for the newly arrived Francisco Gomes Neto, who in April 2019 had succeeded Paulo Cesar de Souza e Silva as the Brazilian airframer's chief executive.
Within months, Embraer had been plunged into twin crises.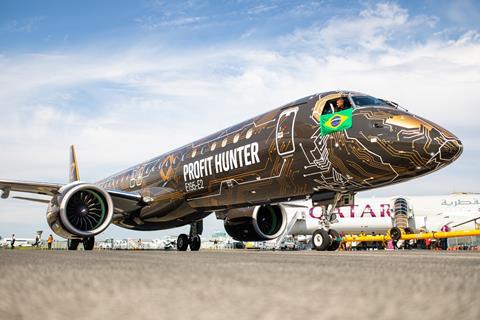 "In early 2020 we had to face two problems. One was the drop in revenue because of the pandemic, but with costs much higher than usual, because we had duplicated a lot of resources internally to prepare the company for the carve-out of commercial aviation," Gomes Neto says. "And then they [Boeing] decided to pull the plug."
The parties remain in an arbitration process, with Embraer seeking financial compensation due to the impact of the US giant's abandoned action.
The pandemic and collapsed pact presented Embraer's new chief executive with the unenviable task of leading a business rationalisation to stabilise the company and maintain its status as the third-ranked producer of commercial aircraft globally.
FIT FOR GROWTH
"I think we did a good job reorganising the company," he tells FlightGlobal, referring to its 'Fit for growth' programme, launched in mid-2020. "We adjusted the workforce, reducing by almost 4,000 people, and put in place a strategic plan. Since then we have been executing that plan with high levels of discipline."
The process also saw the company sell its Evora plant in Portugal, and rationalise its US industrial footprint to Melbourne, Florida.
"The period to 2022 was recovery," he explains. "From 2023 onwards, we see a growth period to capture Embraer's potential."
The company recorded a revenue of $4.5 billion last year, and its expectation for 2023 is in the $5.2-5.7 billion range – similar to pre-pandemic 2019. Meanwhile, its firm order backlog values some $17.4 billion.
But Gomes Neto's ambition is to continually drive improved performance, having set a target to achieve a turnover of $8 billion in 2027.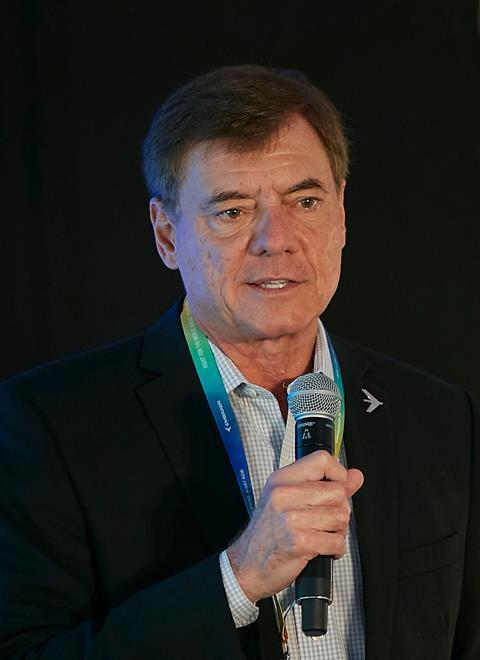 The pride of the company's product range is on show at Le Bourget, including the largest of its E-Jet E2 regional jet family: the E195-E2. It also is exhibiting an A-29 Super Tucano military turboprop and two C/KC-390 transport/tankers: one from the Brazilian air force, and the programme's first export example, due for delivery to the Portuguese air force later this year.
Embraer has so far sold more than 2,000 E-Jets, after launching the E1 programme with a business target of 650 units. As of late-May, this sales total included 1,747 E1s and 270 E2s. Deliveries of the re-winged and re-engined E190-E2 and E195-E2 started in 2018 and 2019, respectively, and more than 70 examples of the Pratt & Whitney PW1900G-powered model have now been shipped.
Led by the unit's chief executive Arjan Meijer, Embraer Commercial Aircraft is currently running campaigns pursuing the potential sale of 200 E-Jet E2s. "We expect to close some deals this year, out of those 200," Gomes Neto says.
Opportunities include with airlines in need of replacing their E1-standard aircraft, plus more than a combined 1,000 ageing Airbus A319s and Boeing 737-700s which will leave use over the next few years. Embraer also is seeing increasing interest in a 100-150-seat "crossover jet" market for regional aircraft to operate beneath carriers' narrowbody fleets. Recent examples have included E2 deals with Royal Jordanian, SalamAir and Scoot.
"Since I joined Embraer I have never seen so many sales campaigns in commercial aviation," Gomes Neto says. "The market is starting to come back for regional jets – with the exception of E1s, because of the pilot shortage in the US."
However, that situation could also soon change to the company's advantage, as it expects to secure a fresh wave of E175-E1 orders from US carriers. With there being no indication of potential changes to the scope clause agreements which restrict the operation of larger aircraft by these operators, work on the more efficient but heavier E175-E2 remains on hold.
Meanwhile, Gomes Neto notes that a major deal to supply Porter Airlines with 50 E195-E2s "might open some doors for us" in the North American market. The Canadian regional carrier took its first two of the 132-seat type last December.
"I hope the customers will consider the fact that to have more competition is good for them in the long-term," he notes.
Embraer's commercial aircraft shipments are expected to total 65-70 units this year – up from 57 in 2022. This will continue a steady recovery, having already climbed from 48 in 2021 and 44 the previous year. It delivered 89 E-Jets in pre-pandemic 2019 and 90 in 2018, and last achieved triple-figures – at 101 aircraft – in 2017.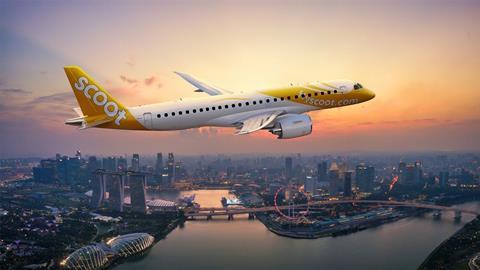 "We are working to ramp up production to more than 100 [commercial] aircraft per year, as we did in the past," Gomes Neto says. Embraer is targeting such an output around 2027-2028.
With international sales of huge importance to Brazil's aerospace champion – which generates 90% of its revenue from overseas – securing defence deals are also high on its agenda.
On the eve of the show, Embraer delivered the Brazilian air force's sixth of 19 on-order KC-390s, and has total commitments to supply 31 of the International Aero Engines V2500-powered type.
Making its international show debut, the first of five C-390s for the Portuguese air force is in the process of having its NATO-standard systems installed before service entry. Meanwhile, Hungary's first of two aircraft was in late May poised to achieve its power-on milestone, with its delivery slated for the first quarter of 2024.
And Embraer remains in negotiations with the Netherlands regarding NATO-standard updates to be implemented with its five jets, selected last year as replacements for aged Lockheed Martin C-130Hs.
SALES CAMPAIGNS
Gomes Neto reveals that Embraer has active C/KC-390 sales campaigns with at least eight countries. Those understood to be interested include NATO member Romania, pending addition Sweden, and neutral Austria.
Interest in the twinjet has spiked due to the changed security situation in Europe following Russia's February 2022 invasion of Ukraine. And, Gomes Neto notes: "After the Netherlands' decision, things have changed in our favour, because other European countries saw that."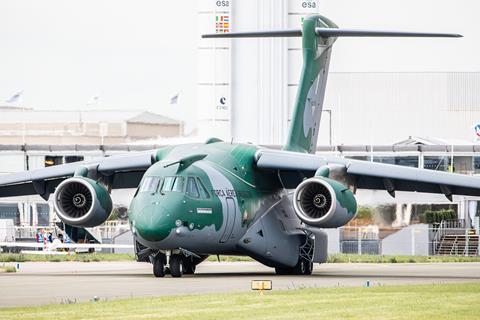 The company is well positioned to respond to the current high market interest, with its assembly line capable of completing 12-15 jets per year. "We just have to add resource, and the supply chain will improve in the next years, so this will not be an issue," he says.
The C-390 also is being promoted in the Middle East via a partnership with the UK's BAE Systems, with Saudi Arabia as an initial focus. And a so-called Agile Tanker development is being offered to the US Air Force (USAF) with partner L3Harris. The platform is intended to support operations from dispersed and potentially austere landing strips located in the Asia-Pacific region.
Acting as prime contractor, L3Harris in March responded to a request for information, and the partners plan to conduct future flight testing of a KC-390 with a lightweight refuelling boom installed beneath its aft fuselage.
"We believe there are some supporters. Things are moving well, and we have the right partner," Gomes Neto says. "If we succeed to sell a reasonable volume to the USAF, we would consider to do some assembly and production in the US, together with L3."
Separately, Embraer expects to announce a first order for the NATO-optimised A-29N version of its Super Tucano later this year, having demonstrated the light attack turboprop to several alliance members, understood to include the Netherlands and Portugal.
It also is supporting Latin American Gripen sales efforts led by Saab, with Colombia and Peru as near-term opportunities. "We are working very closely," Gomes Neto says, confirming: "Embraer is a candidate to assemble the aircraft" for customers in the region. The company earlier this year opened a new final assembly line for the Gripen E/F at its Gaviao Peixoto site, supporting output for the Brazilian air force.
Strong business performance also is expected from Embraer's Executive Jets unit, which is due to deliver 120-130 Phenom- and Praetor-series light and midsize business jets this year. It earlier this year secured a deal to produce up to 250 Praetor 500s for fractional ownership operator NetJets, and demand is so strong that it is currently offering new customers delivery slots from 2025-2026.
Gomes Neto notes that his $8 billion turnover target "is with the existing products, excluding Eve [Air Mobility]".
Embraer, which owns 90% of the electric vertical take-off and landing aircraft programme, span Eve out into a separate entity in late 2021. While the advanced air mobility sector is still in its gestation period, he points out that Eve has the largest volume of commitments in the industry, and a potential pipeline of business worth $8 billion, with operations from 2026. "We are really progressing very well. Our industrialisation plan is ready," he says.
Eve is just one example of Embraer's current pursuit of transformational aerospace products.
INNOVATIVE APPROACH
"We want to be faster than the competition in innovation," Gomes Neto says, "with roadmaps to integrate and accelerate technology maturity." He cites focus areas as including zero-emission advances, artificial intelligence, data science and autonomous flight.
"We are working to have our products ready to fly with SAF [sustainable aviation fuel]," he adds, while its Energia project is exploring the potential of electric, hydrogen and hybrid propulsion. It also aims to have all its production facilities in Brazil running on 100% renewable electricity by 2024.
But having paused the development of a new family of turboprop airliners due to the lack of a suitable engine offer, their potential service entry has been pushed back from 2028 until the early 2030s.
Despite this, Gomes Neto believes the 70- and 90-seat aircraft, with quiet aft-mounted engines, two-by-two seating and large overhead luggage bins, "would be right to open new markets – even in the US".
While Embraer could fund such a development effort alone, the required investment of around $1.4 billion means it would prefer to do so with a partner.
Among other initiatives that will be pivotal to delivering growth are a major efficiency drive, which has seen Embraer work with automotive giant Toyota to find improvements to its production process.
The company is on a journey towards reducing its aircraft production cycle time by 30%, and a 17% improvement was recorded last year. It also is targeting cost reduction and an increased margin from sales.
Gomes Neto says detailed value stream mapping work is performed to identify areas of potential improvement. "Then we remove that waste and shorten the production cycle.
"On some executive jets we have reduced the production cycle time by three or four months, and we have had good success on the E1s. As soon as the supply chain improves, we believe we can achieve our target of 30% on all aircraft."
However, he stresses the critical importance of guaranteeing safety, quality and on-time delivery.
Separately, Embraer's boss also wants at least 20% of its senior leadership positions to be held by women by 2025 – this figure stood at 17% last year.
"I feel much more confident this time," he says of his current Paris visit. "After four years I have had the opportunity to learn a lot, and to leave all the difficulties that we had.
"Now at Embraer we have this 'one team' spirit. This helps a lot. We have all the plans under our control – it is much easier than it used to be with part of the company separate," he says.
"We have a very modern and competitive portfolio of products, and even with the [supply chain] challenges that we have, we have a really bright future. We are really exiting the crisis much stronger."

Craig Hoyle joined Flight International in 2003, and has edited the now monthly title since 2015. He has reported on the UK, European and international military aviation sector for more than 25 years, and produces our annual World Air Forces directory.
View full Profile