Recent comments suggest that Emirates Airline now expects to receive its first Boeing 777-9 in 2023, a development that raises questions about delivery timelines and launch customers.
Boeing has said it will deliver the first 777X – the 777-9 variant – in 2022, though some industry analysts have suggested further delays may arise.
Dubai-based Emirates had widely been viewed as the type's launch customer, though Boeing insists it has never specified a launch customer.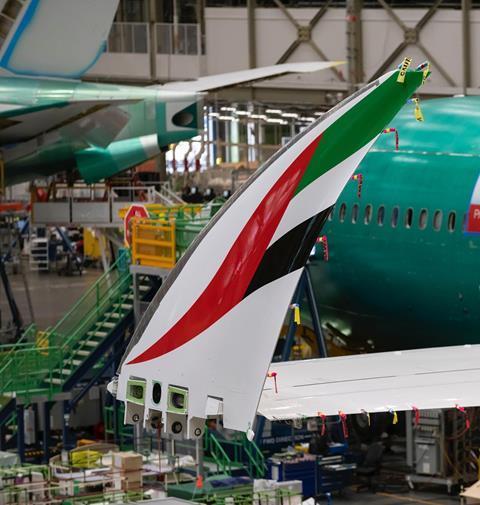 The uncertainty arose after Emirates issued a statement on 29 December.
"Emirates' premium-economy seats will also be installed on some of its Boeing 777X aircraft, which are only due to join the fleet in 2023," the airline said on 29 December.
The statement does not specifically say Emirates will not take any 777-9s until 2023, but previous reports indicated that the new premium seats would be on Emirates first-arriving 777-9s.
The airline declines to elaborate, saying its "discussions with Boeing are ongoing".
Asked to comment, Boeing says, "We continue to work closely with a group of exclusive launch customers for the 777X, including Emirates and Lufthansa".
The company plans to releases its 2020 financial results on 27 January.
In 2017, Boeing had confirmed that Emirates had taken the title of 777-9 launch customer from Lufthansa, according to a FlightGlobal report.
Boeing insists, however, that it has never named a specific 777-9 launch customer but has instead referred to a "launch group" of airlines.
Unclear is whether Emirates has passed the title of launch customer to another airline, or whether it expects Boeing's first 777-9 will be delivered in 2023, not 2022.
Lufthansa did not immediately respond to a request for comment. Airline fleet data provider Cirium now shows Lufthansa as taking the first 777-9, in 2022.
Some industry analysts have speculated that the stricken state of the aerospace industry, combined with intense scrutiny of the Federal Aviation Administration's aircraft certification process, might cause Boeing's first 777-9 deliver to slip beyond 2022.
Boeing chief executive David Calhoun warned as much during the company's third-quarter earnings call on 28 October.
"As with any development programme, there are inherent risks that can affect schedule," Calhoun said. "While we continue to drive toward entry into service in 2022, this timing will ultimately be influenced by certification requirements defined by the regulators."
Story updated on 9 January to include a comment from Boeing.