In the wake of Rolls-Royce's departure from Boom Supersonic's Overture programme, three additional propulsion specialists have indicated they have no interest in developing powerplants for supersonic civilian aircraft, leaving fresh questions about who will supply the jet's engines.
Boom is developing Overture, a four-engined airliner it says will carry 65-80 passengers, fly at Mach 1.7 and have range of 4,250nm (7,871km). First delivery is scheduled for 2029.
However, as yet, there is no engine supplier. That issue was brought into focus last week when Rolls-Royce announced it was exiting the project having completed contracted engineering studies.
Now GE Aviation, Honeywell and Safran Aircraft Engines tell FlightGlobal they also have no interest in developing engines for civil supersonic aircraft.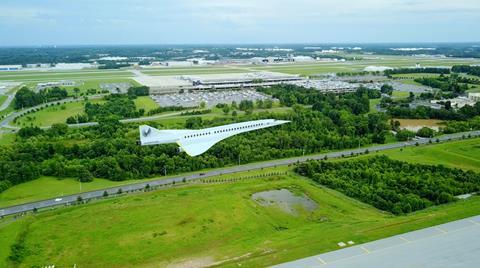 GE Aviation had been tipped to step in to the Overture programme using a version of the Affinity engine it had been working on to power a supersonic business jet being developed by now-defunct Aerion, a US company that failed in May 2021 amid financial difficulties.
But the engine manufacturer rules itself out: "Civil supersonic is not a segment that we are currently pursuing," GE Aviation says.
Another of the relatively few companies capable of developing such a powerplant – Pratt & Whitney – declines to comment on the Overture programme. But a top P&W executive stresses that the company remains focused on subsonic engines.
"We haven't added [civil supersonic] into our overall business strategy," P&W chief sustainability officer Graham Webb says. He calls supersonic civil aircraft "tangential" to P&W's core market, and cites efficiency concerns. Indeed, a 2022 report from The International Council on Clean Transportation found that supersonic passenger aircraft would use 7-9 times more fuel per passenger, per kilometre, than subsonic jets burning fossil fuel. ICAO cited the study in its 2022 Environmental Report.
For those reasons, P&W is dumping resources into boosting the efficiency of its geared turbofan. It aims to have an improved powerplant available for the narrowbody jets Airbus and Boeing are expected to field in the mid-2030s, Webb says. "There's a bit of risk – in terms of distracting your resources, your engineering team – on something that is kind of in a different sector."
Boom insists Overture will be environmentally sustainable, offsetting its carbon output by burning sustainable aviation fuel (SAF).
"This is the first airplane that is… capable of meeting net-zero carbon," Boom chief executive Blake Scholl says. "We care deeply about making this not just good for passengers, not just good for airlines, but also good for the planet."
ICAO's report calls supersonic jets a "poor use of scarce SAF supplies", saying their fuel burn largely negates SAF benefits in relation to subsonic jets burning fossil fuel.
Aerospace analysts say few other engine manufacturers could take on the Overture project. "Nobody else can do an engine in this class, realistically, although Honeywell and Safran aren't inconceivable," says Richard Aboulafia with AeroDynamic Advisory.
But those companies are also apparently out. "Honeywell has no plans right now to develop a supersonic engine for civilian aircraft," it says. Honeywell makes turbofans for business jets and Leonardo's M-346 light-attack/trainer aircraft.
"Supersonic is not part of Safran Aircraft Engines commercial propulsion strategy," adds the French engine maker.
Safran holds a massive chunk of the civil turbofan market via its CFM International joint venture with GE, which produces Leap engines for Airbus and Boeing narrowbodies.
Safran remains "strongly focused on the RISE initiative to develop the technologies for the next generation of narrowbody aircraft engines," Safran says.
RISE – Revolutionary Innovation for Sustainable Engines – is a joint Safran-GE effort to develop an open-rotor powerplant, delivering a 20% fuel-burn saving at service entry, likely in the mid-2030s. RISE aligns with a broad push by the aerospace industry to reduce emissions.
Michael Merluzeau, aerospace consultant with AIR, says International Aero Engines (IAE) could "theoretically" have an engine for Boom. A consortium including P&W, MTU Aero Engines and Japanese Aero Engines, IAE makes V2500s, which power aircraft including first-generation A320s and the Embraer C-390.
"That does not, however, mean the engine can be adapted for the Overture [and] can deliver maintenance, fuel burn and performance required, Merluzeau says.
Overture needs "more firm [order] commitments and a firmer industrial roadmap" to attract an engine supplier, he adds. "Without an effective propulsion system, this is a programme that is not going anywhere any time soon."
R-R on 8 September said it was departing the Boom programme. "After careful consideration, Rolls-Royce has determined that the commercial aviation supersonic market is not currently a priority for us and, therefore, will not pursue further work on the programme at this time," it said.
In response, Boom said: "It became clear that Rolls' proposed engine design and legacy business model is not the best option for Overture's future airline operators or passengers".
Despite many questions, Scholl insists Overture development is on track, reiterating the company will soon announce an engine partner. He points to order commitments from customers including American Airlines and United Airlines.
"We would not have the customer relationships we have if the airplane that we're building was not one that the airlines wanted, and so, I think… that speaks for itself," Scholl says.
In June 2021, United said it had signed a "commercial agreement" – that included a deposit for an undisclosed amount – to buy 15 Overtures contingent on "demanding safety, operating and sustainability requirements".
Then in August, American said it too had paid a "non-refundable deposit" – it also did not say how much – as part of an agreement to buy up to 20 of the jets.
Boom's other partners include Safran Landing Systems, Collins Aerospace, fuel-system company Eaton and Northrop Grumman, which is helping with a military variant.
"I feel really good about this – very, very confident we are going to have a great answer. We are looking at multiple offers," Scholl says.
Story updated on 16 September to note that GE's engine is called Affinity and that The International Council on Clean Transportation completed the research cited in ICAO's study.