Europe's civil aviation regulator has certificated the Tecnam P2010 TDI – a diesel-engined variant of the Italian airframer's piston single.
A liquid-cooled, four-cylinder Continental CD-170 engine producing 170hp (127kW) powers the four-seat light aircraft, which comes with a Garmin glass cockpit. The European Union Aviation Safety Agency approved the variant on 20 October.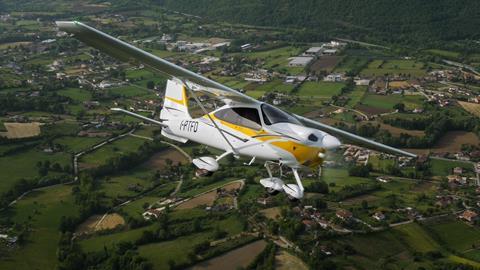 The TDI has 1,050nm (1,950km) range, cruises at a maximum of 136kt (252km/h), has an 1,160kg (2,560lb) maximum take-off weight and burns 19.7 litres (5.2USgal) of fuel per hour. The TDI carries up to 208 litres of fuel.
Tecnam introduced the TDI in May, pitching the variant to owners and operators looking for a lower-cost alternative to traditional avgas-powered light aircraft.
The CD-170 powerplant can burn kerosene-based Jet A, Jet A-1 and diesel.
Capua-based Tecnam introduced the original avgas-burning P2010 – referred to as the "P Twenty-Ten" – in 2014, which is offered with a choice of Lycoming avgas powerplants: the 180hp IO-360-M1A and the 215hp IO-390-C3B6.
Those variants each have about 600nm range, and maximum cruise speed of 134-146kt, depending on the engine and propeller.