European regulators have certificated Textron Aviation's Cessna CJ4 Gen2, clearing a path for the airframer to begin delivering the upgraded light jet variant to the first European customer before the end of June.
Wichita-based Textron Aviation unveiled the CJ4 Gen 2 in February. The variant has several new cabin features, including new seats and lighting, an updated lavatory and a modernised cabin management system, Textron says.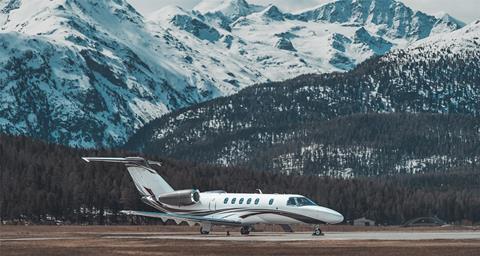 It confirms on 21 June that the European Union Aviation Safety Agency certificated the jet, "clearing the way" for the first European delivery, to Geneva-based private jet charter operator DALaviation Switzerland.
Deliveries are to begin this quarter, Textron says. It adds that the US Federal Aviation Administration has already certificated the GJ4 Gen2.
The airframer previously said it needed "interior certification" for the CJ4 Gen2 before deliveries could commence.
The cabin updates provide more storage, and Textron offers the jet with an optional "high-power outlet" and "pull-out surface for a coffee maker". Textron also updated jet's stairs to have a "lower point of entry" and a handrail.
Powered by Williams International FJ44-4A engines, CJ4 Gen2s have 2,165nm (4,010km) range, a 451kt (835km/h) maximum cruise speed and an altitude ceiling of 45,000ft, according to Textron.
The changes come 11 years after the baseline CJ4 entered service, in 2010. DALaviation already operates a Citation CJ2+ and a Citation CJ1.
Story updated on 22 June to note that the FAA has already certificated the CJ4 Gen2.