Electric air taxi developer Eve Air Mobility reports high spending on research and development during the third quarter as it starts assembling its first prototype ahead of a planned 2024 flight-test campaign.
The Melbourne, Florida-based company lost $31.2 million during the three months ending 30 September, compared with a $36.7 million loss in the same period of 2022. Most of the company's costs were related to advancing its electric vertical take-off and landing (eVTOL) vehicle.
The company's research and development spending reached $28.6 million on the quarter, double its $14.3 million total during the same three months of last year.
"We do not expect meaningful revenues during the development phase of our aircraft, and financial results should be mostly related to costs associated with the programme development," the company says. "These efforts continue to intensify as the design of Eve's eVTOL matures."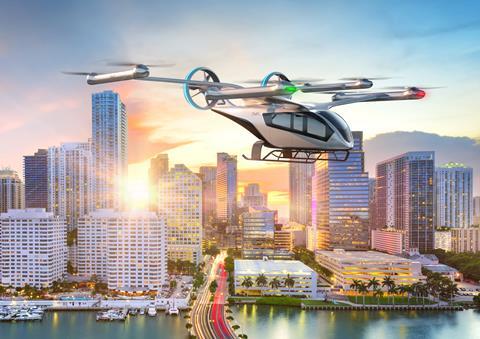 The electric aircraft manufacturer, which is majority-owned by Embraer, spent $72 million on research and development during the first nine months of 2023, versus $33.8 million in the equivalent period of 2022.
As of 30 September, Eve held $256 million in cash, investments and a related-party loan from Embraer, compared with $$330 million on the same date last year. The company reports carrying no debt.
Eve started building its first prototype during the third quarter. It has completed manufacturing the aircraft's carbon-fibre laminate material, internal wing components such as ribs and spars and the first structure to support the fuselage.
Assembly work will continue into the first half of 2024 as Eve receives more components and works to integrate multiple systems.
The prototype will be a remotely operated variant that features "simplification with respect to the systems when compared to what we will put out as the commercial vehicle", says chief executive Johann Bordais.
The test-bed will allow Eve to evaluate flight and sound characteristics on a full-scale aircraft with a representative configuration of the eventual production eVTOL.
Eve's earnings call was the first for Bordais, whose starting date was 1 September. Formerly CEO of Embraer Services and Support, Bordais succeeded former co-CEOs Jerry DeMuro and Andre Stein.
Bordais says Eve is focused on "delivering a product that will be at a high level of operation. We're not talking [only] about substituting helicopters for sightseeing. Obviously, that's going to be one of the applications, but what we're also looking for is the commuting – the urban shuttle – and that requires a very mature operations."
"It's not just about the vehicle, it's also about the whole ecosystem, the services and support," he adds. "I want the team to continue to focus on the development of a vehicle for certification and also prepare for the entry to service, which we're planning for 2026."
Developing infrastructure for eVTOL operations remains a major piece of the puzzle, Bordais says. "We're going to be using existing infrastructure, but also we'll have to come up with vertiports where today there [are] none."
Eve recently named a trio of systems suppliers for its proposed air taxi, which is designed to seat four passengers and one pilot. Garmin will supply the aircraft's avionics, while Germany's Liebherr Aerospace will provide flight-control actuators and Utah-headquartered Intergalactic will supply the thermal management system. The company is still down-selecting suppliers.
The start-up says it is on track to start delivering air taxis to customers in 2026.