Eve, the Embraer-backed electric vertical take-off and landing (eVTOL) aircraft developer, reported a loss of $11.8 million during the first quarter as it ramps up research and development, sales, marketing and staffing.
It was the comapny's first quarterly report since going public earlier this year.
The air taxi airframer, headquartered in Melbourne, Florida, on 4 August said it consumed a total of $13.2 million net cash for its operations during the first half of the year, compared to $5.1 million in the same period in 2021.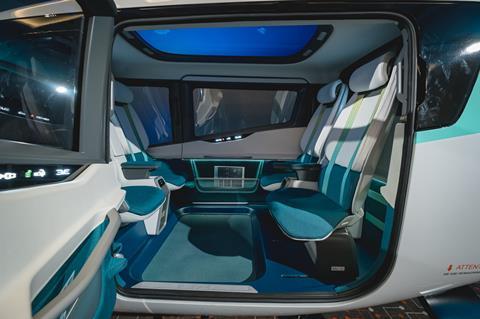 "As we continue to advance our eVTOL development, Eve expects to transition part of its non-binding orders into firm contracts," the company says. "Those firm orders may result in significant cash advances and inflow to the company through down payments that tend to occur several months prior to final eVTOL delivery."
At the end of the second quarter, the company boasted letters of intent for 1,910 eVTOLs, which are designed to be used for urban air mobility (UAM). That number rose to 2,060 by the beginning of August. Eve has LOIs with 22 customers in 10 countries on six continents, the company says. That equates to about a $6 billion non-binding backlog.
Last month at the Farnborough air show, Eve unveiled a new vehicle configuration as well as the craft's interior. The company has redesigned the aircraft to have a conventional wing and an empennage. In past design concepts, it had a canard and a wing. The new design still features eight rotors, providing vertical take-off and landing capability as well as a smooth in-flight experience.
The interior mock-up showed a single pilot seat up front, with four passenger seats – two forward-facing and two rear-facing. According to the company, Eve will have 54nm (100km) of range and will be in service by 2026.
Eve was spun off from EmbraerX, the Brazilian company's advanced technologies division, in May, raising $377 million from strategic and financial investors. Its shares are traded on the New York Stock Exchange.