The Federal Aviation Administration has identified another bolt-torque issue involving Boeing jets – this time affecting the military version of the company's 767.
In an airworthiness directive (AD) released on 4 April, the FAA says it discovered an under-torqued "electrical terminal lug" on a 767-2C, the baseline variant of Boeing's KC-46 military refuelling tanker.
The FAA's order calls the problem a "workmanship issue". The agency says the problem affects only military aircraft but does not provide more information.
"This issue was identified and addressed in late 2020 through early 2022 with Boeing fleet support and service bulletins in coordination with the USAF," Boeing says. "We support the airworthiness directive."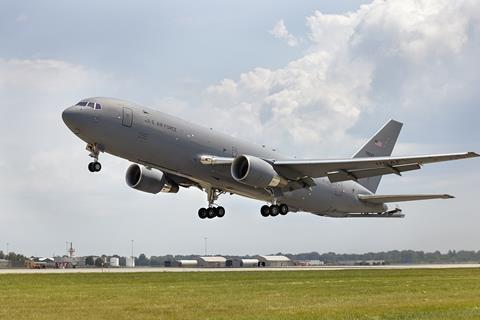 In recent weeks, Boeing has been working to address other torque-related issues. On 23 March, the FAA released an AD to address improperly torqued bolts on 737 Max. That issue specifically related to bolts securing anti-ice exhaust ducts on the jets' CFM International Leap-1B turbofans.
Also in March, FlightGlobal reported that Boeing had recently discovered, through an internal review, improperly torqued bolts on 737 landing gears and wing ribs.
In its new 767 AD, the FAA says it "received a report of an arcing event on an electrical terminal lug in the… panel that caused heat and smoke damage within the panel".
The arcing "caused heat and smoke damage" and resulted from "a loose power feeder terminal lug… [that] was not torqued to the required specifications, resulting in a loose connection".
"Additional inspections to other electrical power panels resulted in multiple findings of under-torqued terminal lugs," the AD adds. "Under-torqued terminal lugs, if not addressed, could result in arcing that may lead to loss of critical function and loss of continued safe flight and landing."
The order requires operators, within 10 months, to visually inspect 767-2Cs for loose lugs and for evidence of electric arcing in some power panels.
Notably, the AD says no "US-registered" aircraft are affected by the order. The US Air Force, which operates the largest fleet of the refuelling tankers, did not provide comment to FlightGlobal.
The global in-service and in-storage fleet of KC-46 jets stands at 72 aircraft, of which the USAF operates 70 and Japan operates two, according to Cirium fleets data. Boeing holds unfilled orders for another 66 of the type, which are powered by Pratt & Whitney PW4000 turbofans.
The torque issue is the latest problem affecting Boeing's KC-46 programme, which has been beset by quality problems, including those related to improperly working external cameras and to foreign object debris found inside completed jets.
Updated on 4 April to include information provided by the FAA, and on 5 April to include a comment from Boeing.