The Federal Aviation Administration has certificated the Boeing 737 Max 8-200 – a specially-configured high-density variant of the 737 Max 8 destined for low-cost carrier Ryanair.
The US regulator says on 31 March that the new version of the type addresses safety concerns that had been raised before the Max was re-certificated for passenger revenue service in November after a 20-month grounding following two fatal crashes.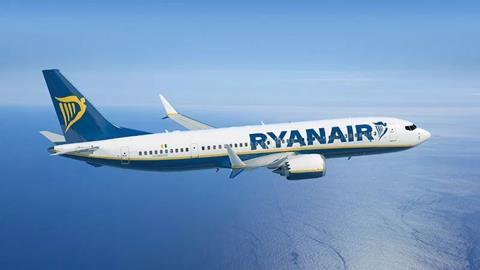 "The Federal Aviation Administration approved the design for the Boeing 737-8200, which is part of the Boeing 737 Max series," says the FAA. The aircraft "incorporated all of the design improvements that were part of the 20-month review of the 737 Max, including those related to Manoeuvring Characteristics Augmentation System (MCAS)."
The 737 Max 8-200 will be primarily used by Dublin-based Ryanair, which has ordered 210 of the type. The main difference to the 737 Max 8 is the addition of an extra pair of exit doors to meet evacuation criteria for the Max 8-200's increased accommodation of 197 seats, along with minor revisions introduced as part of routine safety oversight.
In January, FAA's flight standardisation board conducted an analysis of changes introduced for the Max 8-200 and identified the variant as being "functionally equivalent" to the Max 8 and "operationally suitable".
Last week, Ryanair's group chief executive Michael O'Leary said he had expected the aircraft to be green-lighted by the FAA "some time later this week".
He added that Ryanair expects to receive its first example of the jet in April and will likely operate 16 of the type during the upcoming peak summer travel season.
Following the FAA's certification, European aviation regulator EASA is expected to follow shortly.
Boeing says on 31 March that it continues working with regulators "to safely return the 737-8 and -9 to service. Our teams are also focused on ensuring future members of the 737 family meet all regulatory requirements".