Lawmakers lobbed harsh, pointed criticism at the head of the Federal Aviation Administration on 17 June, accusing the agency of stonewalling congressional investigations into the certification of the Boeing 737 Max.
FAA administrator Steve Dickson denied his agency has not cooperated and pledged to work with Congress to improve aviation safety.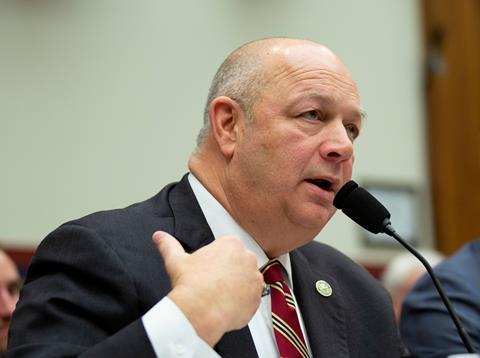 Dickson also argued that improved certification can be best achieved with company-specific safety plans called "safety management systems" (SMS).
He says the FAA will issue a rule requiring aerospace manufacturers have those plans, which are already required for airlines and are intended to embed a safety culture into organisations.
Dickson does not say when such a rule might be issued.
"I believe that the biggest thing that we can do is to implement safety management systems for manufacturers, and we are working on that right now," Dickson tells the Senate Committee on Commerce, Science and Transportation. "We plan to initiate rulemaking on that shortly."
During the hearing, lawmakers chastised Dickson for what they described as the FAA's failure to support the committee's investigation into the Max's certification.
Committee chair Roger Wicker said the FAA failed to respond to multiple requests for information about the FAA's oversight of the Max certification. Regulators grounded the Max in March 2019 following two crashes that killed 346 people.
"This record of delay and non-responsiveness clearly shows at best an unwillingness to cooperate in congressional oversight," Wicker tells Dickson. "Your team at the FAA has deliberately attempted to keep us in the dark."
Senator Richard Blumenthal called the FAA "complicit in these crashes by failing to do more-diligent oversight."
Dickson shot back.
"I vehemently disagree with your characterisation of my desire for transparency," he told lawmakers. "We want to collaborate and work together with the committee to raise the bar on aviation safety."
"I believe it's inaccurate to portray the agency as unresponsive," Dickson added, noting that the FAA is supporting several Max-related investigations.
Dickson also reviewed steps that must be completed before the FAA clears the 737 Max to fly. Boeing has said it expects the type, which has been grounded since March 2019, will be cleared by the third quarter.
Dickson provides no timeline. The FAA still must complete a flight test, and a Joint Operations Evaluation Board (JOEB) – a body composed of representatives from the FAA, other countries' regulators and pilots – must complete a pilot assessment. A Flight Standardisation Board will then release a public report addressing the JOEB's finding, Dickson says.
A multi-agency Technical Advisory Board must also evaluate final Max design documents and the FAA must approve airlines' pilot training programmes.
Lastly, the FAA will issue an airworthiness directive laying out actions airlines must take to return Max to the skies. Dickson, a pilot, will also fly the jet himself before signing off, he says.
The 17 June hearing comes as the Senate pitches legislation intended to improve aviation safety and the FAA's oversight and certification.
Bills recently introduced would require the FAA to review regulations related to pilot interactions with cockpit systems, and to examine assumptions related to how pilots are likely to respond to aircraft failures.
Investigations into the Max crashes, including a review conducted by the National Transportation Safety Board, said Boeing designed the 737 Max's flight control system based on inadequate assumptions about how pilots would react to problems.
The Senate is also seeking to require the FAA to sign off on industry employees who work under companies' "Organisation Designation Authorisations" (ODAs).
Through ODAs, the FAA grants private companies authority to oversee aspects of aircraft certification.