Federal Aviation Administration chief Steve Dickson insists Boeing's 737 Max has been made safe but concedes flaws in the process by which the Max was initially certificated.
Speaking on 18 November, Dickson stressed that while the Max's issues have been addressed, ongoing pilot training and maintenance concerns still need attention.
Dickson himself signed the 18 November order rescinding the FAA's grounding of the jet.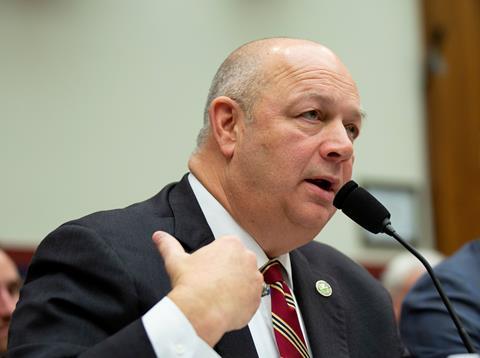 "This airplane has undergone an unprecedented level of scrutiny by the FAA. We have not left anything to chance," Dickson says of the Max. "FAA people meticulously worked on fixes that were necessary to address the issues that played a role in the tragic loss."
The FAA is "taking a fresh look at foundational aviation safety issues, such as pilot training", he adds.
The FAA grounded the Max in March 2019 following two 737 Max 8 crashes: the of Lion Air flight 610 in October 2018 and of Ethiopian Airlines flight 302 in March 2019.
"The design changes we have overseen make it impossible for these accident scenarios to reoccur," Dickson says.
The FAA dedicated some 40 staffers – including test pilots, engineers and inspectors – to the task of reviewing Boeing's changes to the jet, he adds.
Asked why the FAA did not address the Max's issues before certificating the jet in the first place, Dickson concedes shortcomings.
"It came down, to a large degree, to fragmented communications between the flight test and operations sides within Boeing, and then also between Boeing and the FAA," he says.
The Max crashes put Boeing and the FAA under intense scrutiny, with accusations that Boeing muscled the Max through certification amid lax FAA oversight. The agency also took heat for waiting until after the second crash to ground the jet.
Dickson says the FAA has "put measures in place [to ensure] that does not happen again".
And the agency is making changes in response to a January report about the FAA's certification process by a US Department of Transportation committee.
But Dickson also notes that factors other than the Max's troubled flight control system contributed to the crashes.
"We had maintenance issues. We had, frankly, issues with how the airplane was operated," Dickson says.
Indeed, accident reports highlighted critical missteps by pilots, and notable maintenance shortcomings, aviation safety analysts have said.
The FAA is therefore also working to address those issues, Dickson says.
The agency in September 2019 urged civil aviation standards group ICAO to establish a panel tasked with studying pilot training concerns.
That panel, approved by ICAO, will meet in early 2021, according to the FAA.
The FAA released this video on 18 November, in which Dickson describes the FAA's process for lifting the Max's grounding.