The Federal Aviation Administration has proposed a $19.7 million fine against Boeing for regulatory violations related to sensors on nearly 800 examples of the 737NG and 737 Max.
In a 6 March enforcement letter to Boeing, the FAA says sensors that feed head-up guidance systems made by Rockwell Collins, now Collins Aerospace, were not approved to work with those guidance systems.
Chicago-based Boeing says the FAA's findings "do not involve a safety issue" and that the company has cooperated with the FAA's investigation.
Asked if it might need to modify affected 737s, Boeing says it believes "there are no issues with the physical units" and that the fine relates only to documentation.
"Boeing certified on applications for airworthiness certificates that [the aircraft] were airworthy, when the aircraft contained sensors that were not" approved, says the FAA's letter, addressed to Boeing vice-president of engineering for commercial airplanes Lynne Hopper.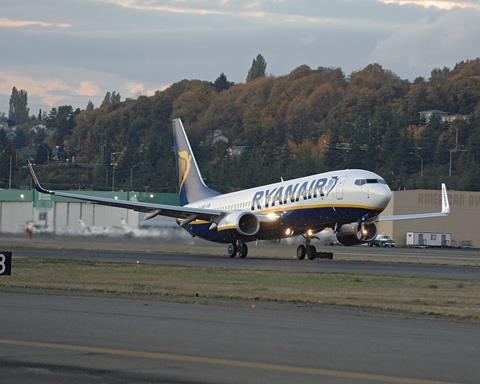 The proposed fine applies to sensors feeding Collins' 4000 series head-up guidance systems on 618 737NGs and 6000 series systems on 173 737 Max, the letter says.
"Boeing failed to verify whether the installed sensors were listed on the applicable sensor interchangeability document," the FAA says. "Boeing presented the… 791 aircraft for airworthy when the aircraft were un-airworthy."
Boeing says the FAA's "findings relate to insufficient documentation to validate that improved parts that provided input to the [head-up system] complied with the Collins… certification documentation".
"A detailed review of the… installation found the parts met or exceeded all original requirements," it adds. "The original certification documentation was not properly updated to reflect the improved parts installed by Boeing."
Collins declines to comment.
The FAA has given Boeing 30 days to respond.