The Federal Aviation Administration is convening a committee tasked with recommending rules to permit "beyond line of sight" drone operations, a step toward allowing significantly broader use of unmanned aircraft.
"The FAA is forming a new aviation rulemaking committee to help us develop a regulatory path for routine beyond-visual line of sight operations," FAA administrator Steve Dickson says on 9 June. "Within six months, we expect the committee will submit a recommendations report to the FAA."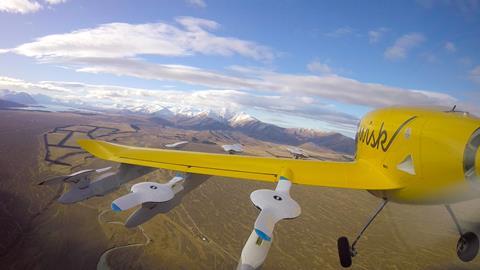 US regulations generally prohibit operators from flying drones beyond operators' sight, though the FAA has permitted several companies to conduct such operations by granting them Part 135 certifications.
Such companies include Amazon, UPS Flight Forward and Wing, a division of Google parent Alphabet.
The FAA does not say when it expects to finalise a beyond-line-of-sight rule.
"This is another very important milestone that builds on the work that we have already done," Dickson adds. He spoke during the "FAA UAS symposium", a virtual event hosted by the agency and the Association for Unmanned Vehicle Systems. "It will help pave the way for routine package delivery, infrastructure inspection and other more-complex drone operations."
Dickson says the beyond-line-of-sight rule will build upon two recently published rules that likewise benefit the burgeoning drone industry.
Those include the "Operations over People" rule, published in January, which permits some small drones to be flown over people and at night. The aircraft must have navigation lights and pilots must complete night training requirements and receive airspace authorisations, Dickson notes.
"We expect operations over people to begin in earnest over the next six to 18 months, as the new rule becomes inculcated in the aviation system," he says.
That rule took effect 21 April. Previously, the FAA had permitted such operations only via waivers granted on a "case by case" basis.
In January, the FAA published its "Remote ID" rule, which also took effect on 21 April. That regulation requires that registered drones – meaning those weighing more than 250g (0.55lb) – have technology that broadcasts identification and location information.
Dickson calls the ID a "digital license plate", saying the rule "will pave the way for more advanced operations and full integration of drones into the US national airspace systems".
Story corrected on 30 August 2021 to note that Alphabet is Google's parent company, not Amazon's.