US start-up Joby Aviation has received regulatory authority to operate commercial flights using a Cirrus SR22, a move enabling the company to prepare for eventually operating electric air taxis.
Joby on 26 May says it received from the Federal Aviation Administration an air carrier certification under Part 135 rules, allowing it to operate commercial air taxi flights using small aircraft.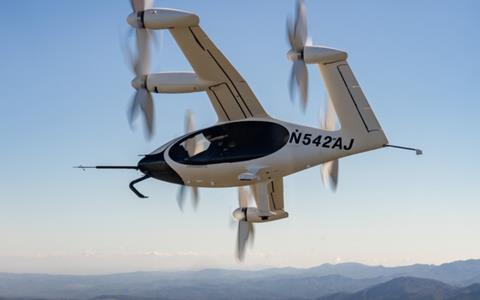 That aircraft will be a Cirrus SR22, a five-seat type powered by a single Continental piston engine, California-based Joby tells FlightGlobal.
Meanwhile, the company is developing a four-passenger electric vertical take-off and landing (eVTOL) aircraft.
"Joby will use conventional aircraft to refine systems and procedures in advance of launching eVTOL service, targeted for 2024," Joby says.
Joby head of air operations and people Bonny Simi adds, "Over the coming months, we will use our Part 135 certificate to exercise the operations and customer technology platforms that will underpin our multi-modal ride-sharing service".
Joby has not disclosed more details about its plans to operate the Cirrus.
The Part 135 certificate is one of three approvals Joby needs to make good on its air taxi concept. Others include a type certificate and production certificate for its in-development taxi.
"Once Joby receives a type certificate for its eVTOL aircraft, the company will complete the FAA review process to add the new aircraft type to its existing air carrier certificate," says the company.
Joby's eVTOL will have range up to 130nm (241km) and be capably of flying at speeds up to 174kt (322km/h), it says.
The Part 135 application included "submission of more than 850 pages of manuals for approval, and required Joby's initial cadre of pilots to demonstrate mastery of the company's procedures and training under FAA observation", Joby adds.