The Federal Aviation Administration has shared with China and Russia all technical data relevant to the 737 Max's re-certification, though when those countries will clear the jet to fly remains unclear.
"We are meeting with the Chinese and Russian civil aviation authorities on a regular basis and have provided them with all the technical information they need," FAA administrator Steve Dickson says on 3 November of the 737 Max's certification.
"I am confident on a technical level that we are in good shape, and they will make the decisions," Dickson adds, speaking before the US Senate Committee on Commerce, Science & Transportation.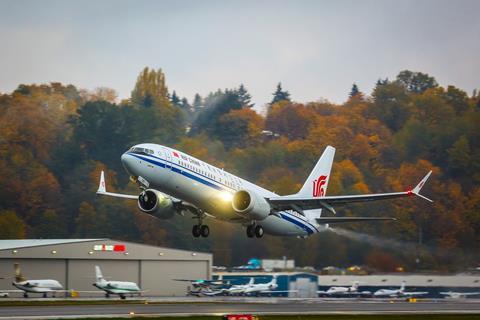 He was responding to a question from US Senator Jerry Moran about outstanding issues that might impact China's and Russia's re-certification.
Moran then asked Dickson if those countries must now be evaluating the Max based on factors other than technical information.
"Yes, sir," Dickson replies.
China and Russia are holdouts in green-lighting the Max, which the FAA cleared to fly in November 2020. Globally, some 175 countries have lifted the Max's grounding, Boeing recently said.
Aerospace analysts view the slow pace of the Max's certification by China and Russia as reflecting broader geo-political disputes between the USA and those countries, China in particular.
But progress has been made. News broke in August that a Boeing 737 Max 7 was being flown in China as part of that country's review. On 27 October, Boeing chief executive David Calhoun said the Chicago airframer continues "to work toward approval" of the Max by Chinese regulators by year-end.
That would allow Boeing to resume delivering the jets to Chinese customers in the first quarter of 2022, he said.
The Chinese certification effort comes amid a broad US-China trade dispute and as the USA seeks to crack down on alleged theft by Chinese spies of trade secrets held by US aerospace manufacturers, including GE Aviation, according to court documents.
One of those alleged spies, Chinese national Yanjun Xu, is currently on trial in US District Court for the Southern District of Ohio. Xu pleaded not guilty to charges including "conspiring and attempting to commit economic espionage and theft of trade secrets", according to the US Department of Justice. Xu sought to steal information from GE Aviation, prosecutors allege.