The Federal Aviation Administration on 30 November issued the first Boeing 737 Max airworthiness certificate since the agency grounded the type in March 2019, the FAA confirms.
Unlike type certificates, which apply to entire aircraft models, airworthiness certificates are the documents that clear specific aircraft to fly.
Having lifted the Max's grounding on 18 November, the agency is again clearing jets for flight – but only those that meet new airworthiness requirements.
Boeing declines to comment about the milestone, deferring to the FAA.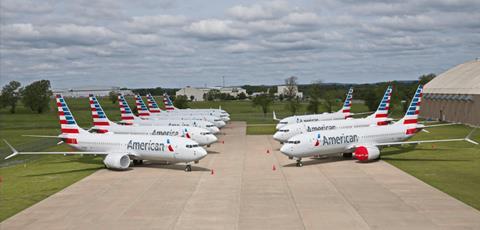 The FAA issues airworthiness certificates to newly-manufactured jets prior to delivery to customers.
Each of the roughly 450 Max in Boeing's inventory need the certificates prior to delivery. Boeing produced, but did not deliver, those jets amid the 20-month grounding.
The airframer has said it expects to deliver about half the 450 Max – some 225 – within one year.
"We expect to have sufficient number of inspectors on hand to meet Boeing's planned delivery schedule for the foreseeable future," the FAA says. Previously-delivered 737 Max – there are some 390 in airlines' fleets – received their airworthiness certificates prior to the grounding. Those jets do not need new certificates but must also comply with new airworthiness requirements prior to being flown, the FAA says.
Prior to the grounding, the Chicago-based airframer had issued airworthiness certificates itself, having been granted that authority by the FAA.
But in November 2019, under intense critique for its approval of the Max design, the FAA said it had taken back that responsibility.
In lifting the Max's grounding, the FAA also released an airworthiness directive (AD) requiring all Max have updates prior to being flown.
That AD requires flight control computers be modified in ways intended to prevent the type of circumstances that preceded two crashes that killed 346 people. The AD also requires that the jets' horizontal stabiliser wires be separated to comply with FAA regulations.