An "urgent unsafe condition" has led the Federal Aviation Administration to order airlines to ensure their Boeing 777s have correctly installed "cap seals" – components used to prevent fuel-tank fires.
The FAA issued the new requirements in an airworthiness directive (AD) released on 29 August, saying the move responds to risks Boeing introduced by publishing incorrect information in a 2021 service bulletin.
The agency's order is to take effect on 15 September and will give airlines 30 days from then to review maintenance records to determine details about the cap seals. It applies to 291 US-registered 777s.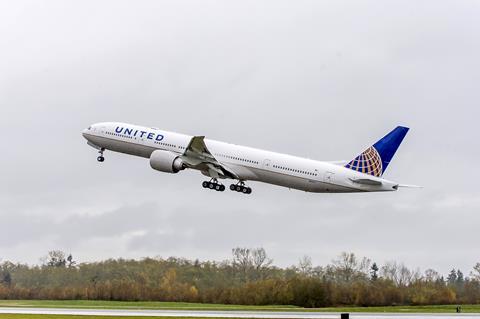 "Fastener cap seals interior to the airplane's fuel tanks are a critical lightning protection feature," the FAA's order says. "This is particularly true for the centre-wing fuel tank, which typically contains flammable fuel vapours more frequently than the main wing fuel tanks."
The issue stems to a previously known problem involving cracking of some structural components, including "front spare lower chords", on some 777s.
Last year, to address that risk, the FAA issued an AD requiring airlines to complete inspections and modifications specified by Boeing's 2021 service bulletin.
Now, the FAA says it has learned the service bulletin "contains errors relating to the application of cap seals" used to cover fasteners that penetrate 777 centre-wing fuel tanks.
More specifically, the bulletin failed to require that cap seals be applied to some 777s and did not specify seal "thickness".
"If these seals are not replaced properly, and the associated fastener has poor electrical bonding to the airplane structure for any reason, the fastener may spark during a lightning strike and cause a fuel tank explosion," the FAA says.
Asked to comment, Boeing says, "We fully support the FAA's rule, which is consistent with guidance we have shared with operators previously".
The FAA says Boeing had in late 2022 disclosed an "initial report" about the errors. But the FAA did not receive a "detailed and complete documentation of these errors" from Boeing until July, due to "the length and complexity of the requirements bulletin", the agency adds.
The new AD supersedes the FAA's 2022 order and comes as an immediate final rule – meaning, due to the level of risk, the FAA is accepting comments after issuing the rule, not prior to, as it does with less-urgent orders.
The 291 affected US-registered jets include 777-200s, 777-200LRs, 777-300s, 777-300ERs and 777Fs.
However, 777s lacking a certain fuel tank are exempt. Also, because Boeing has addressed the issue on new-build 777s, aircraft with manufacturing line numbers of 1,743 and greater are also excluded. The 777 with line number 1,743 is a 777-200 delivered by Boeing to China Cargo Airlines in July, according to Cirium data.