The US Federal Aviation Administration has followed Brazil's lead in requiring US carriers to address a landing gear issue affecting more than 300 US-registered Embraer 135 and ERJ145 regional jets.
An FAA airworthiness directive (AD) released on 5 April will require US operators to complete actions detailed in a Brazilian AD that took effect in February.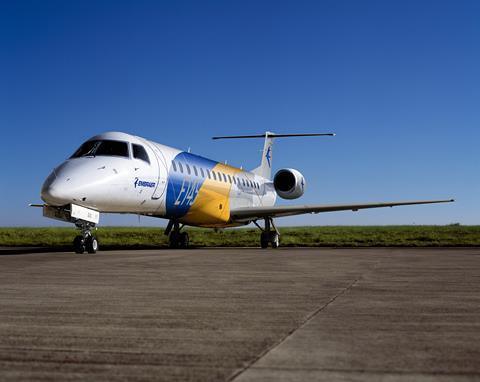 The orders require airlines to inspect and potentially replace components on ERJ135 and ERJ145 landing gear – specifically, lower side arms and side arm struts.
"This AD was prompted by a report involving disconnection of a side arm strut from the right" main landing gear, says the FAA. The "side arm strut lower bearing was installed inverted".
"Further inspections found more instances of inverted installations on other airplanes, as well as other improper installations," the FAA adds in regulatory papers.
The incorrect installations occurred while ERJs were undergoing a maintenance task at a specific aftermarket service shop, according to a person familiar with the matter who declined to be identified. The issue is not widespread, but rather limited to a small number of aircraft, all being ERJ145s, this person says.
The issue could result in the main gear being "locked in the down position", says the FAA.
The US order affects 304 aircraft registered in the USA and takes effect on 20 April.
Story updated on 5 April to include new details.