The Federal Aviation Administration has started the process of defining how it will regulate the new breed of in-development electric air taxis.
The agency on 6 December filed an 89-page proposal detailing plans to subject air taxi operations to regulations now tailored to airlines and other operators of commercial aircraft.
Because completing the rulemaking process will take time, the FAA has also proposed temporary rules applying to air taxi operations and to air taxi pilot certifications.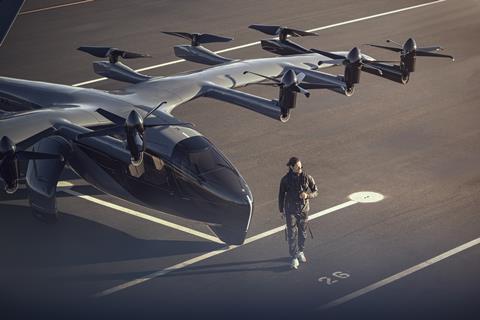 The temporary measures will "enable industry to begin operating powered-lift [aircraft] while the FAA gathers data to develop permanent regulations", the report says.
"Powered-lift" is the FAA's definition of aircraft that can take-off and land vertically using engine thrust for lift, and fly horizontally using lift from wings.
Many air taxis under development – for instance, those by Joby Aviation, Archer Aviation, Eve and Wisk Aero – have powered-lift designs. Such companies broadly aim to have their designs – known as electric vertical take-off and landing (eVTOL) aircraft – certificated and flying passengers within several years.
The FAA's problem is that powered-lift aircraft are not among five existing aircraft categories to which FAA operating rules apply, the FAA's proposed rule change says. Those categories include commuter carriers, domestic carriers, flag carriers, on-demand carriers and supplement carriers.
The FAA has proposed adding powered-lift to the list.
"Amending these definitions, along with other provisions… would enable powered-lift to engage in operations consistent with the applicable statutory framework that applies to air carrier and commercial operations," the proposal says.
The changes would subject air taxis to existing FAA operating rules, including those applying to large airlines (called Part 121), commuter carriers (Part 135) and air tour operators (Part 136).
"The FAA is engaging in a multi-step process of updating the regulations that apply to aircraft that traditionally have not operated under these parts," it says.
The FAA is accepting comments about its proposal for 60 days after 7 December.