The Federal Aviation Administration has published a report broadly laying out a path to enable operation of electric air taxis and other novel aircraft in sizeable numbers by 2028.
The agency on 18 July released its 36-page "Innovate28" plan, which comes as various companies are seeking design and operating approvals from the FAA for electric aircraft, including fixed-wing and vertical take-off and landing models.
The FAA faces the challenge of certificating such designs and ensuring the safe operation of entirely new classes of passenger and cargo aircraft.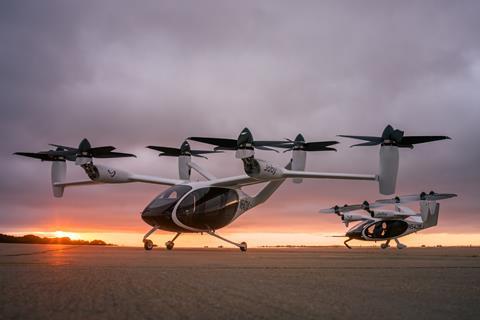 "The Innovate28 plan includes various components and the sequence they will occur in for operations to be at scale at one or more sites by 2028," says the FAA. "The plan will serve as a foundation for making entry into service routine and predictable, by maximising the use of existing procedures and infrastructure."
The roadmap describes steps required from various players in the so-called "Advanced Air Mobility" (AAM) sector. Those include aircraft developers, the energy industry, labour groups, NASA and the US Department of Homeland Security.
The FAA's plan "addresses how the agency and partners will certify aircraft and pilots, manage airspace access, ensure pilot training, develop infrastructure, maintain security and engage communities", it says.
Several high-profile aircraft developers, including Joby Aviation, Archer Aviation, Eviation and others, say they are within several years of having their designs in service.
The FAA has baked various assumptions into the newly released plan because some operating characteristics of AAM aircraft remain undetermined.
The agency assumes electric air taxis will fly no higher than 4,000ft and above urban areas in controlled airspace. Pilots will therefore require air traffic control clearances, and aircraft will need automatic dependent surveillance-broadcast (ADS-B) Out systems, the report notes.
It also says air taxis will probably fly along established "charted routes".
Initially – between 2025 and 2028 – operators will likely fly from existing airports and heliports, which will be equipped with charging stations and other required AAM-specific infrastructure, the report says. Later, the aircraft may operate from designated air-taxi "vertiports".
The report notes that the FAA's certification division is now working with more than "two dozen manufacturers" of AAM-type aircraft.
"Nearly half of the companies have reached a level of maturity and development to have manufactured flying testbed prototypes," according to the report. "Their progress reflects positively on readiness to advance in the type certification process."
Getting such aircraft into service will require developers work with "multiple" FAA Flight Standards Service boards "to conduct operational suitability reviews".
"The Flight Standardization Board will determine the aircraft type rating, the Maintenance Review Board will determine the scheduled maintenance taskings… and the Flight Operations Evaluation Board will determine the requirements of the aircraft's master minimum equipment listing," the report says
"This plan shows how all the pieces will come together allowing the industry to scale with safety," says FAA deputy administrator Katie Thomson.