A Federal Aviation Administration report completed in April establishes broad timelines for when the agency expects to implement a number of oversight changes, including creation of a safety management system (SMS) rule.
FAA administrator Steve Dickson mentioned that rule on 17 June, calling it the most-critical means by which aerospace manufacturers can improve safety.
The rule would require aerospace designers and manufacturers have SMS, which are companywide safety management programmes.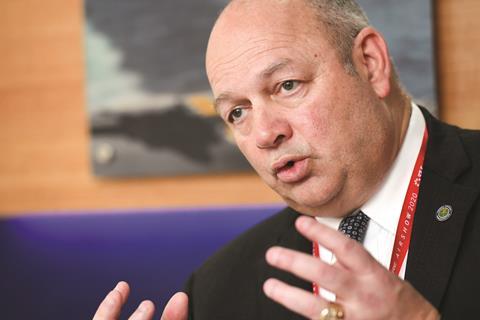 In its April report, issued in response to recommendations stemming from two Boeing 737 Max crashes, the FAA says it will propose the rule by December 2021, though it may not be final for another two to four years.
The SMS rule is among several FAA actions outlined in the 35-page report.
The agency also pledges to address certification issues related to pilot-aircraft interactions, pilot proficiency, certification of updates to older aircraft, and the FAA's Organisation Designation Authorisation (ODA), under which it permits aerospace manufacturers to perform some certification work on behalf of the agency.
The FAA sent the report to US transportation secretary Elaine Chao in response to conclusions reached earlier this year by a committee assigned by Chao to investigate the FAA's certification processes.
"The agency outlined actions that are either planned or already underway to address the findings and recommendations that led to each of the special committee's recommendations, as well as those from previous reviews by outside experts," says an FAA statement. "While the committee's recommendations underscore that our existing strategic safety initiatives are sound, they also provide insight into areas where we have opportunities to improve."
In the report, the FAA pledges to improve the ODA process, though it calls ODAs "an effective and efficient method to enhance safety".
Critics have described the ODA process as being ripe for abuse, saying that companies can place undue pressure on their employees assigned to ODA units.
In response to such concern, the FAA will revise an existing order to "clarify undue pressure reporting and communication". It will also ensure ODA staffers understand their responsibility to report such pressure.
"These policy updates will support a more-proactive stance on undue pressure, with additional focus during FAA audits and increased attention from ODA holders on their internal processes," says the FAA's report.
The US Congress has also targetted the ODA process for change, introducing recent bills seeking to require that the FAA approve ODA staff.
The FAA's report also addresses assumptions about pilot responses, and human-system interaction – meaning how pilots respond to cockpit systems, especially during emergencies.
Manufacturers use assumptions as part of the safety assessments they make when designing aircraft systems. For example, Boeing based its assessment of the Max's new flight control system on the assumption that pilots would quickly override unexpected activation of the maneuvering characteristics augmentation system (MCAS), according to a National Transportation Safety Board report. But pilots of both crashed 737 Max, facing a bevy of cockpit warnings, did not respond as Boeing assumed, that report said.
The FAA will "reevaluate our approach to the human-machine interface and interaction" and ensure that manufacturers validate their assumptions, says the FAA's report. The agency intends to propose a related rule by November 2020.
Also, by March 2022, the FAA will take steps to ensure its "approach to human-machine interaction" better reflects the skills of pilots everywhere, not just US pilots, says the FAA's report.
Additionally, working with other countries' aviation regulators, the FAA will advance efforts to establish adequate requirements for pilot type ratings and other qualifications.
The FAA also pledges to evaluate means of addressing regulatory "gaps" that may apply to "changed products" – aircraft like the 737 Max that are updated variants of older designs.