The Federal Aviation Administration intends to tweak its certification process to require manufacturers to specifically inform the agency about "safety critical" items.
The FAA has long required companies, during the process of achieving certification for new transport aircraft, to include "safety critical information" in initial certification plans.
But in a notice released by the US government on 26 July, the FAA says such information is often not "clearly demarcated as safety critical".
"The FAA plans to… provide guidance for applicants to delineate safety critical information," it adds.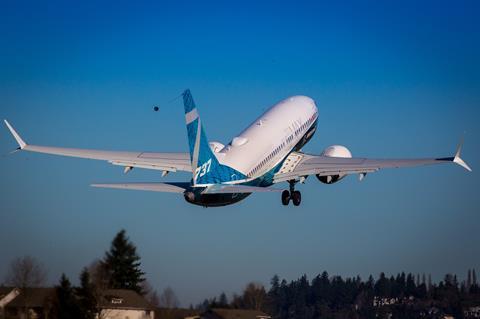 The change marks the FAA's response to provisions in a 2020 law under which the FAA must require companies to be more forthcoming with details about systems and designs that could cause significant safety hazards.
The law responded to the FAA's perceived inadequate oversight of Boeing's 737 Max certification – specifically its review the jet's Maneuvering Characteristics Augmentation System, which sent two Max 8s into dives from which the pilots could not recover.
The law defines "safety critical information" as including designs and systems that, without pilot input, could command changes to "the flight path or airspeed of an airplane". Other examples include failures that can have "hazardous or catastrophic" effects.
Under the law, the FAA must require such information from both applications for new type certificates and for holders of existing certificates. Companies that discover new safety risks must report those to the FAA.
The agency is accepting public comments about the regulatory changes, which come as Boeing is working to achieve FAA certification for its 737 Max 7 and Max 10.