The Federal Aviation Administration is proposing inspections of 25 Boeing 737 Max 9s after determining that a fuel sealant was not applied during manufacturing.
The sealant in question is intended to act as a "fuel barrier" on "blowout" doors, says an FAA proposed airworthiness directive (AD) released on 19 January.
"Application of sealant on the left wing and right wing leading-edge outboard blowout door was missing during the airplane manufacturing process on some model 737-9 airplanes," the proposed order says. "In the event of a substantial fuel leak from the wing box, missing sealant could result in an unintended drain path allowing fuel to come into contact with the engine."
The result could be a "large ground fire".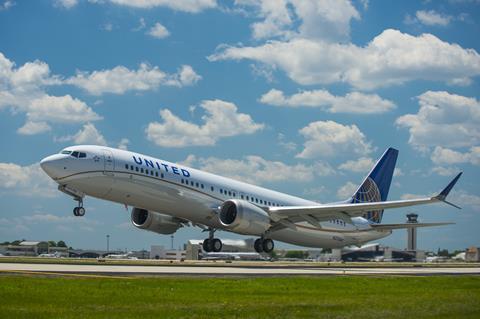 Boeing says the issue stems from since-updated 737 Max 9 work instructions.
In April 2020, the Chicago-based airframer issued a service bulletin addressing the issue. Boeing says it recommended airlines address the issue within 12 months.
"We notified operators of this issue in April 2020. At that time, we provided detailed instructions on where to inspect and how to apply the sealant if it was missing," Boeing says. "We fully support the FAA's action to make our recommendations and instructions mandatory."
The FAA says the issue applies to 25 737 Max 9s, including 14 registered in the USA.
Manufacturing numbers show the US-registered jets are all in the fleet of United Airlines, according to Cirium fleets data. The remaining 11 jets are operated by Copa Airlines (six aircraft), Flydubai (three), Icelandair (one) and Turkish Airlines (one), data shows.
Boeing delivered those 25 737 Max 9s between April 2018 and February 2019.
The agency is proposing that operators be required to complete actions detailed in Boeing's service bulletin. More specifically, the FAA intends to require a "fluid seal contact inspection and a detailed inspection for missing sealant on the blowout door, and applying sealant if necessary", the proposed AD says.