The Federal Aviation Administration his finalised a rule requiring that operators inspect Boeing 737 Max wiring shields for issues that could, in extreme circumstances, cause dual-engine failures or erroneous engine data.
The rule, made public 24 June, does not relate to the flight control system implicated as a factor contributing to two 737 Max crashes.
The FAA's airworthiness directive (AD) requires that 737 Max 8s and Max 9s be inspected for wiring shield issues prior to flight. Both models remain grounded following the crashes, and Boeing predicts regulators will clear the jet in time to allow deliveries to resume in the third quarter.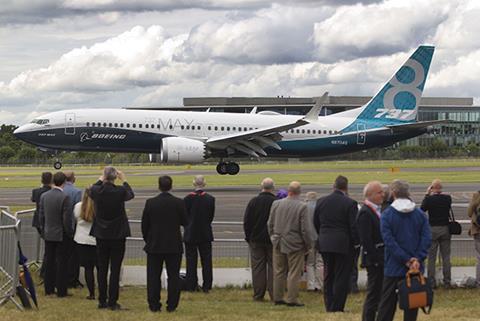 Boeing itself addressed the wire-shield issue with a service bulletin released in December 2019.
The FAA's order follows reports that "exterior fairing panels on the top of the engine nacelle and strut… may not have the quality of electrical bonding necessary to ensure adequate shielding".
Specifically, operators must inspect thumbnail and mid-strut fairing panels for issues with an aluminium foil that shields aircraft wiring "from the electromagnetic effects of high-intensity radiated fields", according to FAA documents.
Such fields are caused by "electromagnetic energy from radar, radio, television and other ground-based, shipborne or airborne radio frequency transmitters", according to earlier FAA materials. Those signals can affect modern aircraft that rely heavily on electric systems.
In the case of the 737 Max, "cuts" in the aluminium foil can cause electromagnetic energy to affecting wiring in ways that "could potentially lead to a dual-engine power loss event and/or display of hazardously misleading primary propulsion parameters", the AD says.
Asked to comment, Boeing says it "recommended this action in December 2019 and has been working closely with our customers to ensure the 737 Max's engine nacelles are fully protected from electrical energy. We support the FAA's airworthiness directive, which makes our recommended action mandatory".
The FAA's original proposed rule, released in February, also said the aluminium cuts made 737 Max more susceptible to risks caused by lightning strikes.
But the agency removed mention of lightning from the final rule after Boeing objected. The airframer said that, even with cuts in the aluminium, the Max's systems have sufficient margins to protect against lightning strikes.
Boeing also asked the FAA to require that the inspections be completed before next "revenue" flight, rather than before non-revenue flights. The FAA declined that request.
Boeing has told the FAA it will cover the cost of the work under 737 Max warranties.