The Federal Aviation Administration will take from Boeing the task of certifying airworthiness of new-build 787s, a move coming as the agency oversees Boeing's efforts to address manufacturing quality issues.
The FAA had previously taken over certifying airworthiness of Boeing's 737 Max.
"The FAA today informed Boeing that the agency will retain the authority to issue airworthiness certificates for all Boeing 787 Dreamliner aircraft," the FAA says on 15 February. "This will allow the agency to confirm the effectiveness of measures Boeing has undertaken to improve the 787 manufacturing process."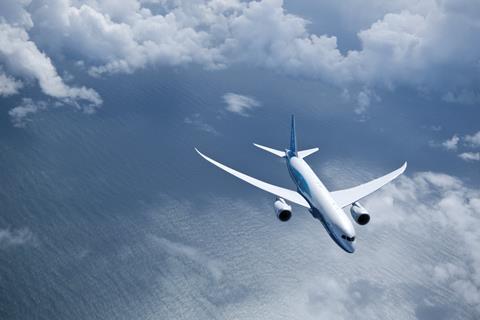 The FAA's delegated oversight programme allows Boeing and other manufacturers to assume some self-regulation work, including the issuance of airworthiness certificates for new aircraft. The certificates are specific to individual aircraft and affirm that the jets are clear to fly.
But, the FAA sometimes pulls back that authority.
The change comes as Boeing's 787 deliveries remain halted due to manufacturing quality issues, including gaps between fuselage sections that failed to meet specifications. Boeing has been developing fixes – called "rework" – and methods of proving aircraft meet specifications. But the work requires FAA approval.
Boeing 787 deliveries have been paused for much of the last 18 months.
The FAA intends to retain responsibility for issuing 787 airworthiness certificates until Boeing meets several conditions, the agency says. Those conditions include that "Boeing's quality control and manufacturing processes consistently produce 787s that meet FAA design standards".
The company must also have "stable" delivery processes and have in place "a robust plan for the rework that it must perform on a large volume of new 787s in storage", the FAA adds.
"We respect the FAA's role as our regulator and we will continue to work transparently through their detailed and rigorous processes," Boeing says. "Safety is the top priority for everyone in our industry. To that end, we will continue to engage with the FAA to ensure we meet their expectations and all applicable requirements."
The FAA in November 2019 likewise stripped Boeing of authority to issue 737 Max airworthiness certificates. That move followed two 737 Max crashes and came amid the Max's 20-month grounding.