The Federal Aviation Administration intends to require US airlines to perform more work to ensure 777 fuel tanks are safe from potential ignition.
The agency on 25 July issued a proposed airworthiness directive (AD) detailing measures the agency says build on previous efforts to prevent fires and explosions.
The FAA's proposal would apply to all 777 variants – 282 US-registered aircraft. It would require airlines perform inspections and address potential risks, including by installing Teflon sleeves on wire bundles.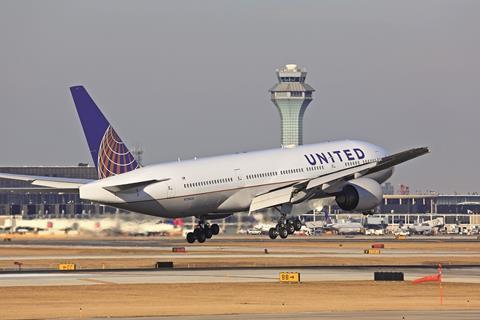 Additionally, the proposal would require US airlines update maintenance or inspection programmes.
The risk of fuel-tank explosions caught regulators' attention following the 1996 in-flight break up and crash of TWA flight 800, a 747-100. The National Transportation Safety Board determined that a fuel-air mixture likely exploded in the jet's centre fuel tank.
The FAA subsequently required manufacturers prove that fuel tank systems in their aircraft can prevent ignition. The FAA in 2017 issued an AD aimed at preventing 777 fuel tanks from igniting in the case of lightning strikes.
The agency now seeks to expand that rule with the new proposal, saying 777s might still be subject to ignition risks.
Its proposed rule would require airlines follow steps laid out in a service bulletin issued by Boeing in August 2021.
That bulletin specifies procedures for installing and inspecting "Teflon sleeves" found at wire bundles in various locations on 777s, the AD says. Boeing's bulletin also calls for airlines to inspect and "seal" fasteners "in the centre fuel tank, left and right main fuel tanks and right cheek portion of the centre fuel tank".
The FAA estimates the requirements will cost carriers' nearly $50,000 per aircraft, for a total expense for the US industry of about $14 million.
Boeing tells FlightGlobal it "fully supports" the FAA's move to make the company's previously issued guidance mandatory.