US regulators are following Canada's lead by proposing that Airbus A220 operators be required to inspect the type for potential cracks in wing-to-body fairing components.
The Federal Aviation Administration has addressed the concern with a proposed airworthiness directive (AD) made public on 31 March.
The proposal responds to "a report of cracking in the longeron, frame and tie-rod on [the] left and right sides of the aft [wing-to-body fairing] structure", it says.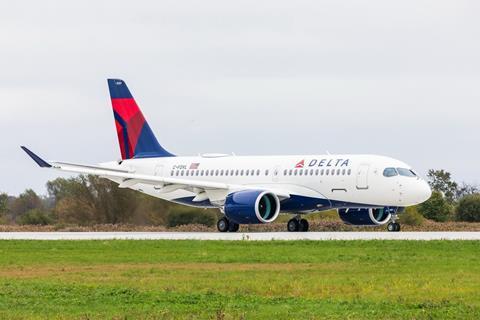 The issue occurs "near the tie-rod attachment at fuselage section 973" and likely results from "excessive tie-rod preload", it adds.
Airbus has already issued a service bulletin addressing the concern.
The FAA says the issue could affect both A220-100s and A220-300s. The cracks threaten the "integrity" of the wing-to-body fairing and could lead to "parts departing the airline, loss of radio altimeter and effects on airplane stability and performance", the FAA says.
The proposal would require US airlines to complete inspections and potential repairs as described in an AD issued by Transport Canada in October 2020.
Canada's order requires airlines to complete steps laid out Airbus' service bulletin and an update to its A220 maintenance publication.
Those steps include adjusting "the load on certain tie-rods", and repeat inspections.
US carriers Delta Air Lines and JetBlue Airways operate A220s.