US regulators have issued a sweeping directive to address a longstanding tailpipe problem potentially affecting 41,000 US-registered aircraft with turbocharged reciprocating engines.
A proposed airworthiness directive (AD) released by the Federal Aviation Administration on 25 July applies mostly to general aviation aircraft.
It requires operators to replace "v-band couplings" in turbocharged engines because "spot welds" on those couplings are subject to fatigue failure.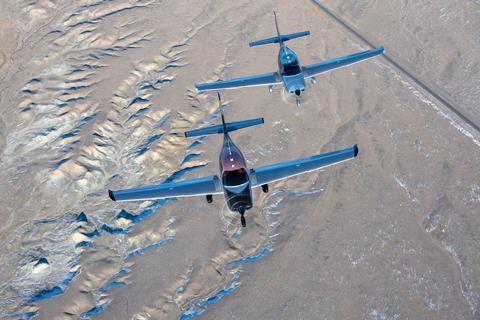 V-band couplings attach "the exhaust tailpipe to the turbocharger exhaust outlet", says the FAA.
Many v-band "spot welds" on turbocharged reciprocating engines have failed during the last nearly 50 years. When they fail, engine tailpipes can detach, allowing "high-temperature gases to enter the engine compartment" and causing smoke in the cockpit and fires, says the FAA.
The proposed AD would apply to all aircraft powered by reciprocating turbocharged engines that have spot-welded v-bands. Such engines include those made by Continental (including TSIO-360s and -550s) and Lycoming (including IO-540s and TO-360s).
The proposal says aircraft made by at least 26 manufacturers might be subject to the failure. Those include Cirrus SR22s, Diamond Aircraft DA40s, several Cessna models (including 402s) and various aircraft produced by Piper and Textron Aviation.
The problem could apply to 41,058 US-registered aircraft, the FAA says, adding that it "has no way of determining" the exact number.
The FAA's proposal would require operators to replace v-band couplings before they accumulate 500h of service, among other provisions.
V-band coupling failures have caused many aircraft accidents and incidents – some fatal – since the mid-1970s. Over the years, the FAA has issued 20 ADs to address the risk, it says.
Still, the number of v-band coupling failures has continued increasing, prompting the US government to appoint a working group to study the issue. That group issued its findings in 2018.
The "report concluded that the common denominator in the incidents and accidents… is the spot-welded, multi-segment exhaust tailpipe v-band coupling," the FAA says. "The majority of the events studied by the working group indicated fatigue failure".