The chief executive of Boom Supersonic has left open the possibility that the company's supersonic demonstrator may not get airborne until next year.
CEO Blake Scholl says Boom expects the jet's first flight will occur "around the end of this year, early next year".
He made the comment to lawmakers during a hearing held by a House Committee on Transportation and Infrastructure aviation panel.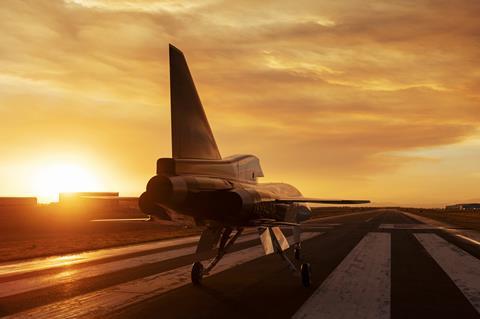 Denver-based Boom had previously, as recent as March, said XB-1 was on track to fly in 2021. The company will use XB-1 to evaluate supersonic technologies, helping it develop a commercial supersonic airliner called Overture.
Boom unveiled XB-1 in October last year. It has said the jet will undergo ground and low-speed taxi tests at Centennial airport in Colorado, and flight tests over the Mojave Desert.
"XB-1's integrated testing began after our rollout last year and is well underway with upcoming extensive taxi testing as part of the flight test programme," Boom tells FlightGlobal.
Whether XB-1 gets off the tarmac this year or early next, Scholl insists Boom's broader timeline remains unchanged.
The company intends to break ground in 2022 on a facility in which to manufacture Overture, and to start building the jet in 2023, he says.
Boom plans to roll out Overture in 2025 and to fly it for the first time in 2026.
"We are going to have passengers aboard before the end of the decade," Scholl says.