Airship developer Flying Whales is on course to launch cargo flights with its massive craft by 2027 despite significant regulatory hurdles facing its ambitious programme.
The French-Canadian company's conceptual helium-lifted dirigible – the 200m (656ft)-long LCA60T "heavy-duty rigid airship" – is designed to carry up to 60t of cargo in remote operating environments such as the "the great, big north of Canada", Thibault Proux, airworthiness specialist for Flying Whales, tells FlightGlobal on 20 June at the Paris air show.
"We are currently researching where we can locate the machines based on how they can be operated in certain markets," he says. "We have identified some sites in Europe and in Canada."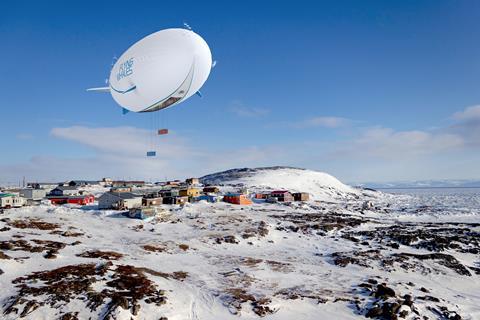 Proux says Flying Whales has been working with aviation regulators, including EASA, to create a certification basis for its airships, noting that previously there were "no regulations at all".
"Now we have a set of regulations to certify the machine," he says. "We are doing the same for licensing operators on the ground and in flight."
Acknowledging it is a "huge burden to create the regulations", Proux says having input on the process creates flexibility and "the possibility to push for what we thinks makes sense in terms of safety".
Cruising at 54kt (100km/h), the Flying Whales airship will be powered by a hybrid-electric system composed of Honeywell's 1MW generator mated to a gearbox and gas turbine.
Flying Whales is currently building an assembly line near Bordeaux, which it expects to be operational within 18 months. The start-up then plans to build the first prototype LCA60T, and ultimately aims to produce 160 airships.
Possible missions include lumber extraction, humanitarian aid and shipping and logistics. "We want to go wherever we cannot access [currently]," Proux says. "The mission is huge – and that is what makes me dream."