A new aerospace company led by former Boeing head Dennis Muilenburg has assembled an experienced management team and aims to advance technologies such as alternative propulsion, automation and manufacturing.
That is according to documents recently disclosed by Muilenburg's new venture – a "blank-check" investment company called New Vista Acquisition.
Blank-check companies are publicly traded firms established for the sole purpose of raising money to acquire and bring public other companies.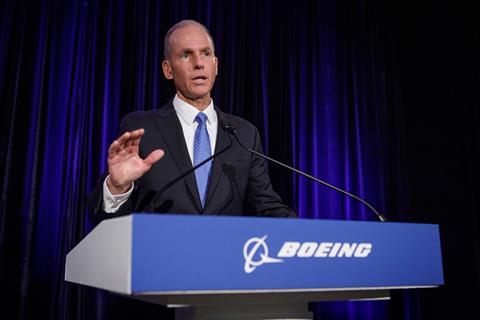 When formed, blank-check companies do not disclose acquisition targets; they raise money based on the experience of their management teams.
"We intend to focus our search for a target business operating in the aviation, aerospace and defence industries," New Vista says in a 1 February securities filing.
New Vista is eying companies that develop technologies related to electric and hybrid-electric propulsion, alternative fuel, electric power systems, advanced materials, manufacturing, computing, situational awareness, automation, machine learning and artificial intelligence, documents say.
"We believe that our broad industry focus will provide for many potential targets that could become attractive public companies," the documents read. Potential acquisitions could range from "high-growth, early-stage innovators to more-mature businesses with established franchises, revenue streams and cash flows".
New Vista, which is incorporated in the Cayman Islands but lists Chicago as its US base, declines to comment, saying it is now in a "quiet period".
It expects to begin trading on the NASDAQ exchange imminently under the symbol "NVSAU", and to raise $200 million through an initial offering of public stock.
New Vista's executive team includes CEO Muilenburg, chief operating officer Kirsten Bartok Touw and chief financial officer Travis Nelson.
Muilenburg, an engineer by background, was Boeing CEO from 2015 until leaving amid the 737 Max crisis in December 2019. He joined Boeing as an intern in 1985 and held several senior roles, including chief operating officer.
"Under Mr Muilenburg's leadership, Boeing's stock price increased significantly, its market capitalisation doubled and annual revenue exceeded $100 billion for the first time in company history", the filing says.
Boeing's revenue did indeed hit $101 billion in 2018. But revenue sank to $77 billion in 2019 amid the Max grounding, and to $58 billion with the added pandemic pressure in 2020.
New Vista notes that Muilenburg, along with Boeing, were defendants in legal cases arising from two 737 Max crashes that killed 346 people. Boeing settled a case brought by the US Department of Justice.
Bartok Touw is managing partner of aerospace finance company AirFinance. She previously was vice-president of structured finance and corporate development at Hawker Beechcraft and has helped finance projects related to "advanced air mobility", autonomy, machine learning and drones, according to New Vista.
Nelson has been a managing member of investment company Eclipse Investors and is former managing director at investment firm TowerBrook.
New Vista names several executives who have been nominated to become its directors.
Those include Marion Blakey, previous head of the Federal Aviation Administration, Rolls-Royce North America and the Aerospace Industries Association, Howard Lance, former CEO of space company Maxar Technologies, Christopher Lofgren, a logistics executive who is US Chamber of Commerce board chair, and Stephen Wilson, a retired US Air Force general.
Advisers to New Vista include a number of former Boeing staffers. Among them are former Boeing communications and marketing executive Anne Toulouse, former Boeing chief technology officer John Tracy and former senior vice-president of Boeing's office of internal governance and administration Diana Sands, New Vista says.
Other advisers include former Google, United Technologies and Airbus executive Paul Eremenko, Uber Elevate head of business development Wyatt Smith, retired US Air Force general Maryanne Miller and retired US Army lieutenant general Herbert Raymond McMaster.
"Our team has broad and significant relationships with domestic and international corporations, industry leaders and defence and security agencies," New Vista says.
Story updated on 2 Febuary to clarify which executives will be advisers to New Vista.