Supersonic aircraft maker Boom Supersonic has landed former Boeing chief executive Philip Condit as an advisor.
Condit now sits on Boom's advisory council, helping steer the company as it tests a supersonic demonstrator and progresses with development of a supersonic airliner.
Also joining Boom's advisory board is Tim Brown, executive chair of Ideo, a design firm that has worked in the aerospace sector.
"As Boom prepares for the upcoming launch of Overture's manufacturing, Condit's end-to-end experience delivering large commercial airplanes will help solidify Boom's lead in civil supersonic aviation," Denver-based Boom says on 19 February.
Condit, a 35-year Boeing staffer, became Boeing CEO in 1996. He steered the company through its acquisition of Rockwell Aerospace and merger with McDonnell Douglas before stepping down as CEO in 2003.
Prior to heading Boeing, Condit worked on programmes including the Supersonic Transport, 727, 747 and 757, and oversaw Boeing's Renton division. He also headed Boeing's new aircraft unit, which developed the 777, Boeing says.
"I was drawn to Boom by the significant progress the team has already made in developing a sustainable supersonic airliner," Condit says. "Boom's team has the technical depth and know-how to deliver on its vision, and I'm excited to have another opportunity to help make aviation history."
Boom has developed a supersonic demonstrator aircraft called XB-1, which is scheduled to fly in 2021. That project is meant to help the company develop a conceptual, 65-88-passenger supersonic airliner called Overture.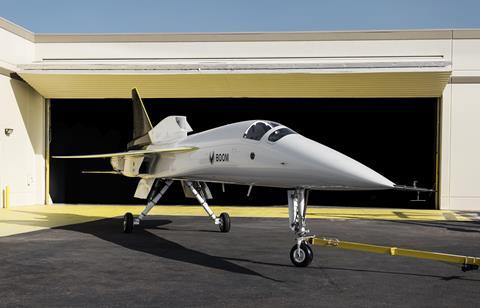 Boom aims to roll out Overture in 2025 and for the jet to by flying commercially by 2029.