Former Embraer chief executive Paulo Cesar de Souza e Silva has become advisor to US electric aircraft developer Airflow, which now says it has secured sales commitments worth $600 million.
Silva, who had been Embraer's CEO until April 2019, joins a group of Airflow advisers that includes former Airbus Americas chair Allan McArtor.
"Silva will advise Airflow on bringing new aircraft to market, including financing, manufacturing and go-to-market strategy," Airflow says on 17 August.
The company, based near San Francisco, is developing electric short take-off and landing aircraft (eSTOL).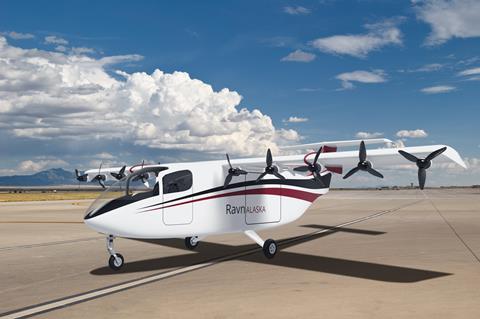 As Embraer CEO, Silva oversaw the Brazilian airframer's formation of EmbraerX, a division that developed technology for an electric vertical take-off and landing (eVTOL) aircraft. In October 2020, Embraer spun off that work into air taxi developer Eve Air Mobility.
Airflow has "the right experience to effectively seize the opportunity of eSTOLs, thereby changing the face of sub-regional transportation", Silva says.
Started in 2019 by five executives who previously worked on Airbus's now-shuttered Vahana electric air taxi programme, Airflow is developing at least two eSTOLs – the 217nm (402km)-range Model 100 and the 434nm-range Model 200.
The Model 100 will be capable of carrying four passengers or 363kg (800lb) of cargo, and of taking off and landing from 46m (150ft) of runway. The Model 200, with 434nm of range, will be able to carry up to nine passengers or 2,000lb of cargo, and to operate from 76m of runway, the company says.
Marc Ausman, Airflow CEO, was chief strategist on Airbus's Vahana programme. Airflow is working to have an aircraft in service in 2025. In developing an aircraft that would operate from existing runways, Airflow is taking a tack different from the myriad of companies developing vertical-take-off air taxis, which will require new operating infrastructure.
On 17 August, Airflow says the value of its aircraft order backlog "now exceeds $600 million", including potential sales to 11 customers. That is three times the $200 million worth of orders Airflow reported in June, when it said Alaska regional carrier Ravn Alaska signalled an intention to acquire 50 of its eSTOLs.
Airflow declines to specify how its backlog tripled in three months. It does not disclose the names of new customers and has not said whether customers have actually put down cash deposits.
Airflow does say, however, that it had a busy summer of sales and that the $600-million figure includes deals that had been underway for months but that were not "countable until now."
In addition to Silva and McArtor, Airflow's advisers include Alan Amling, a former UPS executive, Darold Cummings, an aerospace consultant and former technical fellow at Boeing's advanced technology unit Boeing Phantom Works, and Kristin Bartok Touw, managing partner of aircraft finance firm AirFinance.
Bartok Touw is also chief operating officer of New Vista Acquisition, an aerospace investment company launched in December 2020 by former Boeing chief executive Dennis Muilenburg.