UK airship developer Hybrid Air Vehicles (HAV) is on the cusp of advancing its Airlander programme into its production phase, following a successful funding drive.
"We know where our first three aircraft are going to go. They are held under reservation for individual customers," says chief executive Tom Grundy.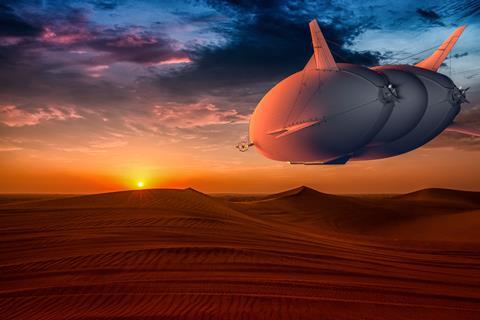 The company recently staged a $200 million equity subscription agreement activity, which Grundy says will enable it to "get those first three aircraft into the market, leased into the travel sector". HAV launched the luxury travel version of its Airlander 10 at the Farnborough air show in 2018.
HAV has yet to announce the location for its UK production line, which is planned to complete a minimum of 12 aircraft per year. Its production-standard Airlander 10 is due to fly in 2023, powered by combustion engines, and the initial trio of customer aircraft will also be used during the programme's type certification campaign.
For passenger point-to-point operations, HAV is proposing its Airlander 10 in a 100-seat layout, which Grundy describes as matching a capacity "sweet spot". Noting that 70% of European regional jet services operate sectors of less than 200nm (370km), he adds: "We're cost-competitive today".
Once equipped with hybrid-electric engines from 2025, the Airlander will produce just 10% of the carbon emissions of a conventional aircraft, HAV claims. All-electric operations are expected to begin within a further five years of that point.
Collins Aerospace's UK unit in July completed a critical design review for the in-development E-HAV1 500kW electric motor, with a first test example now in fabrication. "It's making great progress," Grundy says, with ground-based testing to start in early 2022 and flight qualification work to commence the following year.
Pointing to the Airlander platform's green credentials, he notes: "We're not solving the whole problem of aviation, but we can show some leadership."
Describing the type as representing a "category-defining capability", Grundy says: "What we are doing is a steady maturation of our strategy, to deliver a common platform from our production line for different forms of service."
Defence applications, such as long-endurance surveillance, are also planned, using conventional combustion engines.
"Airlander is easy to integrate systems into, and easy to reconfigure – you're integrating sensors and antennas often on the inside of the platform, and when it's on the outside, you're dealing with lower flight speeds," he says. "It means we're able to work with a range of businesses on the operations and support, maintenance, modification and sustainment, and on the mission systems side to create packages."
The company is working with Vertex Aerospace and 2Excel Aviation to help determine potential military opportunities. "It's giving us that real strength in our approach to customers, and will give customers a lot of confidence, having those businesses alongside us," Grundy notes.
"I am as excited as I've ever been about the disruptive potential of a 3t mission system, five day-endurance platform that can operate away from today's fixed infrastructure and deploy with fleets into parts of the world that are difficult to access," he tells FlightGlobal.
HAV also earlier this year signed a cooperative research and development agreement with the US naval postgraduate school, primarily looking at "Airlander's applicability in logistics". The relationship also will span topics like operational analysis and the use of digital twin technology. "We are working on how we take that forward into fielded capability demonstrations," Grundy adds.
"We've worked really hard to get to a point where customers are there and ready to use the aeroplane," he says of the programme. "We've got an orderbook and production slots available. We've got letters of intent and reservation agreements in place, and we've got the next tranche coming along."
Meanwhile, HAV also continues to receive enquiries about its planned Airlander 50 heavy-lifter. Current studies are looking at the type's potential for supporting remote energy infrastructure, and performing "middle-mile" or "farm-to-port" logistics flights, Grundy says.