NASA has taken delivery of two GE Aviation F414-GE-100 turbofans, which will power the agency's in-development supersonic test aircraft, the X-59.
The 22,000lb-thrust (98kN) powerplants are now at NASA's Armstrong Flight Research Center at Edwards Air Force Base in California, NASA said last week.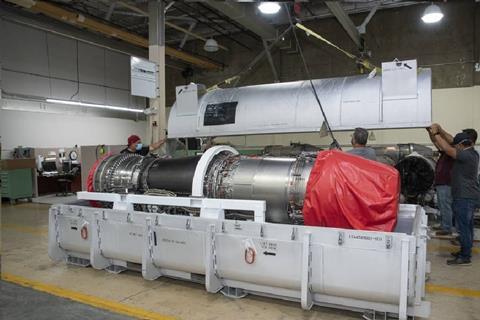 GE based the F414-GE-100's design on the F414-GE-39E, which powers the single-engined Saab JAS 39E Gripen. The turbine variants for the Gripen and the X-59 are derived from the F414-GE-400, which powers Boeing's twin-engined F/A-18E/F Super Hornet fighter.
Ohio-based GE assembled and tested the F414-GE-100s at its site in Lynn, Massachusetts. NASA holds an option to purchase a third engine.
Because X-59 is a single-engined aircraft, NASA will keep the second F414 as a backup, it says.
NASA will inspect the engines at Armstrong Flight Research Center. It will then ship them to nearby Palmdale, where one F414 will be installed on X-59.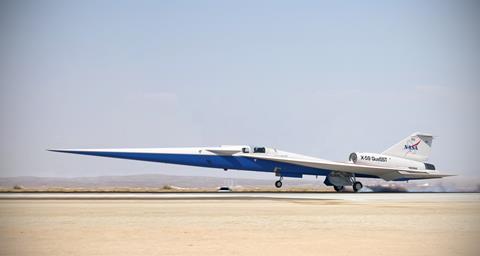 Lockheed Martin's Skunk Works site in Palmdale is designing, developing, manufacturing and flight testing X-59 as part of a $248 million contract won in 2018.
NASA's X-59 propulsion lead Raymond Castner calls the engine deliveries "another exciting, huge milestone for us in building the X-59".
"The tried-and-true guts of the engine, all the turbomachinery" are the same as those found other F414 variants, says GE's X-59 demo model designer Anthony Hazlett.
"But the engine's external design and the way the engine operates was upgraded," he adds.
The changes include new control-system software allowing the engine to communicate with the aircraft, and new plumbing, Hazlett adds.
To reduce space and weight, the F414-GE-100 lacks "track hardware" found on other F414s. That hardware eases installation on fighters.
GE has already completed about 8h of F414-GE-100 tests on a stand.
"Putting the X-59's engine through its paces at a GE test cell in Lynn showed it could handle the high afterburner usage and demonstrated all other design upgrades, such as the newly designed control software, would work as expected," says NASA.
The agency is developing a single X-59 under its Low-Boom Flight Demonstrator project for the purpose of studying so-called "low-boom" supersonic technology.
Engineers are designing the jet with features intended to give it a quieter sonic boom – estimated to be less than 75 perceived dB when heard on the ground, NASA has said. That compares to the Concorde's 105 perceived dB boom.
The X-59's boom should be comparable to "distant thunder" or "neighbors shutting a car door", NASA's Low-Boom Flight Demonstrator project manager told FlightGlobal earlier this year.
"If you are not really listening for it, you may not even notice it," he said.
Lockheed expects to complete X-59's maiden flight in 2021 and to deliver the jet to NASA in 2022.
X-59 will be about 30m (98ft) long, have a 9m wingspan and be capable of cruising at 55,000ft and at Mach 2.4, according to NASA.
NASA intends for X-59 to perform "community flights" over the USA starting in 2023. From those flights it will collect sound data and study public response to the jet's sonic boom. The agency aims to prove that low-boom supersonic designs can be quiet enough to avoid public disturbance, clearing a path for the Federal Aviation Administration to lift its ban on civil overland supersonic flight.