German air taxi developer Volocopter and ADAC Luftrettung, one of Germany's largest air rescue organsations, have agreed to customise two VoloCity electric vertical take-off and landing (eVTOL) aircraft emergency medical missions, and add up to 150 more later, pending a successful test phase.
ADAC Luftrettung reserved the first two airframes in 2020.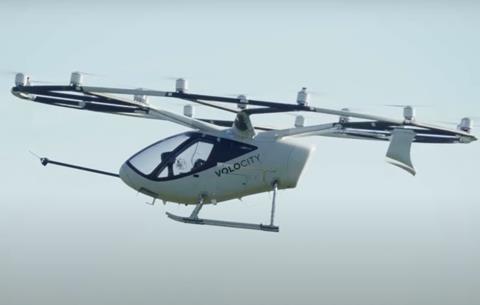 "From the very beginning, we have been convinced that these aircraft can also shape and improve the rescue service of the future," Frederic Bruder, chief executive of ADAC Luftrettung said at the Paris air show on 19 June.
"With higher ranges and operational speeds, as well as significantly more payload of the next generation of eVTOLs, we can also put the benefits for emergency care into practice – and fulfil our statutory mission to further develop the rescue service from the air with pioneering innovations," he adds.
The first two VoloCity aircraft will enter a two-year test phase in the Idar-Oberstein and Dinkelsbuehl regions in western Germany once the airframe has received its type certificate from the European Union Aviation Safety Agency, anticipated for 2024. The testing programme is expected to begin in "late 2024".
A pilot will dispatch an emergency physician to incident locations to supplement ADAC Luftrettung's EMS rescue helicopters.
Following the testing period, the VoloCity aircraft could join the regular ADAC Luftrettung roster and up to 150 "additional eVTOLs will be considered for use in future rescue missions", Volocopter says.
Dirk Hoke, chief executive of Volocopter, adds: "There is no better way to start Volocopter eVTOL operations in Germany than by saving lives.
"We have proven the emergency rescue use case works in theory, now we are concentrating on the delivery and execution to start EMS operations in Germany in 2024," he says.