Deutsche Aircraft's in-development D328eco will have a longer fuselage than the baseline D328, carry 10 more passengers and be designed for eventual single-pilot operations.
The company revealed those and other details about its D328 reboot project on 7 December, while also stressing that the Covid-19 pandemic could, long term, heighten demand for short-haul travel.
The D328eco will be powered by Pratt & Whitney Canada PW127S powerplants, and the company stresses that the aircraft will have a "sustainable aviation fuel… compatible airframe".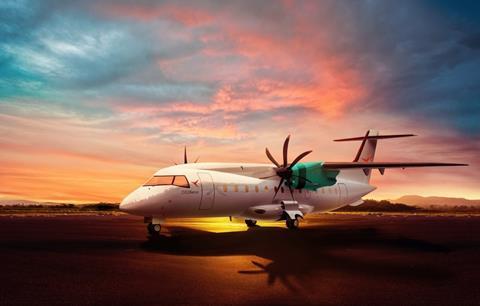 Deutsche Aircraft intends for the D328eco to "come to market by 2025", one year later than FlightGlobal had reported earlier this year.
"Despite the crisis… work is going on full steam ahead on the D328eco," says the company. The German government is helping fund the programme through an effort to promote zero-carbon-emission aircraft, it adds.
The airframer is affiliated with 328 Support Services, which holds the D328's type certificate and is owned by US-based Sierra Nevada.
In calling its D328 revival the "D328eco", Deutsche Aircraft raised speculation that the new aircraft might have hybrid-electric systems.
Deutsche Aircraft has not yet disclosed inclusion of such technology.
Still, the company insists the D328eco will "lead the way in a new era of clean aviation", and "align the future of aviation toward a zero-emission flight objective".
"The D328eco will offer an alternative, eco-efficient solution within the sub-50-seat regional commuter and multi-role aircraft markets," it says. "It will pave the way to zero emission within the next 15 years."
The D328eco's cockpit will have a "state-of the-art flight deck, and capabilities offered by the latest avionics suite will target future single-pilot operations," the airframer adds.
The aircraft's fuselage will be 23.3m (76.4ft) long, or about 2m longer than the baseline 328. That aircraft, also powered by PW100-series turboprops, was produced until 2000, according to Cirium fleets data.
The longer fuselage will enable the D328eco to carry up to 43 passengers, about ten more than the original 328.
Deutsche Aircraft thinks the Covid-19 pandemic will eventually spur demand for more short-haul travel, making aircraft like the D328eco in higher demand.
"Travelling habits and demands on airlines will change," the company says. "Traditional large-scale hub-and-spoke operations will be restructured as the demand for short-haul, point-to-point, low-emission transport grows."
It adds that airlines will "resize their fleets to accommodate smaller, more-efficient and more-eco-friendly aircraft".
Brazilian airframer Embraer has made a similar prediction in recent months. That company is considering developing a new turboprop, based on its E-Jet fuselage, with up to about 100 seats.