Fledgling airframer Deutsche Regional Aircraft (DRA) has rebranded its proposed revival of the Dornier 328 twin-turboprop as the "D328eco" and hired a former Airbus specialist in alternative propulsion as its chief technology officer (CTO).
Although DRA has released no details of its aircraft, which it says is at the preliminary design review (PDR) stage, the moves suggest that it is likely to be considering electric- or hybrid-electric power for the platform, which was launched last year.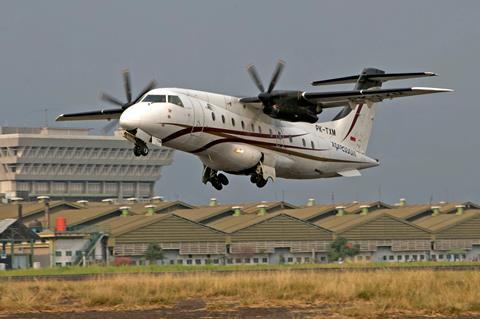 Announcing the appointment of Martin Nusseler as CTO, the airframer says the "technical mission" for the aircraft is driven by a "clear commitment for more sustainable aviation" versus "today's standard technologies".
Nusseler was at Airbus for 17 years, with the last five spent leading the manufacturer's alternative propulsion systems and technologies unit.
DRA says the D328eco will deliver "significant improvements in operational and maintenance costs, as well as substantial reductions in [its] overall carbon footprint."
As part of the PDR process, DRA is examining the "trades and maturity" of new systems and materials ahead of firming up its supplier list. Service entry is set for 2024.
A final assembly facility for the D328eco will be constructed at Leipzig Halle airport, while design and engineering activities are taking place in Oberpfaffenhofen near Munich.
The original Dornier 328 could carry up to 33 passengers and was available in both jet- and turboprop-powered variants.
DRA is an offshoot of 328 Support Services – the type certificate holder for the Dornier 328 – which in turn is owned by US-based Sierra Nevada.
Under a now abandoned plan, Sierra Nevada and 328 Support Services intended to build re-engined versions of the 328 in Turkey under the TRJet brand.