GKN Aerospace plans in 2023 to open a new site in Texas where it will develop additive-manufacturing processes for producing "large-scale" titanium aerostructures.
The UK company is moving existing additive-manufacturing development work from the US Department of Energy's (DOE) Oak Ridge National Laboratory in Tennessee to the new facility, in Fort Worth, Texas, GKN says on 21 November.
"The move will strengthen its position as an additive-technology leader, with a larger facility, plans for an additional larger [additive manufacturing] cell and increased collaboration within the aerospace ecosystem," GKN says. "Over the next few years, GKN Aerospace expects to transform the facility into its fourth Global Technology Center, to complement existing centres in Sweden, the Netherlands and the UK."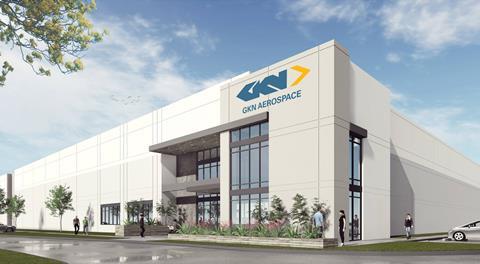 The company's president of defence, Shawn Black, says Fort Worth is close "to many of our major customers in Texas and across the US".
The new 9,290sq m (100,000sq ft) site will initially house research into and development of an additive-manufacturing technique called "laser metal deposition with wire" (LMD-w), which GKN plans to use to produce "large-scale titanium aerostructures".
LMD-w is a process for building components using metal wire melted by lasers. GKN had in 2016 secured a five-year contract worth $17.8 million to develop LMD-w processes at the Oak Ridge laboratory's Manufacturing Demonstration Facility.
It intends in early 2023 to transfer existing equipment and workers from the Tennessee site to Fort Worth, where it expects to eventually employ about 100 people.
"GKN Aerospace will renovate the facility with office space and equipment over the next two years, while the city of Fort Worth will provide grant funding based on qualified [research and development] investment" over five years, it says.
GKN does not specify the cost of setting up the site but describes the effort as a "multi-million [dollar] public-private investment".
It also does not specify types of components it plans to develop using additive manufacturing (also known as 3D printing), nor aircraft types. GKN notes it has used LMD-w to produce a titanium component measuring 2.4m (8ft) long and weighing 45.4kg (100lb).
"We are working with partners to explore opportunities with aircraft that could benefit from large-scale [additive-manufactured] titanium structures," GKN says.